Joanna Gaines' Genius Tip For Squeezing Extra Light Into A Small Bedroom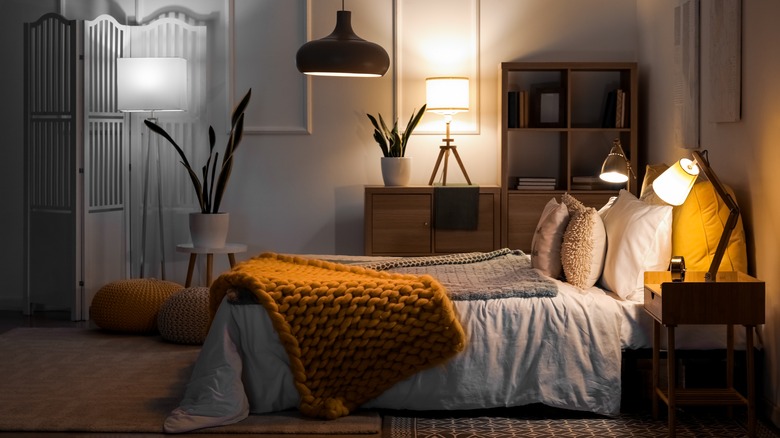 Pixel-Shot/Shutterstock
Whether you're in a house or an apartment, many of us deal with life in a bedroom that's smaller than we'd prefer. But if you're navigating the realities of space limitations in a big city or a smaller home anywhere else, there are some crafty interior design tricks to maximize every available inch. Some designers use monochromatic colors to open up the space, while others choose light fixtures that take up minimal square footage, such as interior designer Joanna Gaines, whose excellent tip for lighting a tiny bedroom is to install wall sconces.
When you want to increase the illusion of space in a small bedroom, you need to choose every item intentionally. Full-sized side tables and table lamps on either side of a bed can feel crowded in a petite room. If the price and installation costs of sconces are out of reach, there are also ways to create your own design with a gorgeous lighting IKEA hack.
How this tactic works
If you're designing a small room without the help of a professional, consider Joanna Gaines' space-saving sconce idea. Installing wall sconces is a tried and true designer technique they often use to enlarge any small room by taking up more wall than ground space. Another tip: If you choose a sconce that's a similar color to the wall, it will help it blend in even more, further adding to a more open, uncluttered feel.
"What's great about these lights is that they don't take up a lot of room ... Sometimes a [table] lamp can be bulky," Gaines said (via YouTube). Sconces can have a single or double arm, and some are covered in fabric, resembling tiny lampshades. They can be industrial-looking, like styles made with dark steel, or they can be soft and radiant. For specific style ideas, the Sculptural Ribbed Sconce from West Elm introduces texture and light and can complement various aesthetics. There's also the Suddly Gold Brass Indoor Wall Sconce from Home Depot that has an adjustable head to make reading easier; you can point the light at your book and then redirect it to illuminate the rest of the space.