The Bold Wood Floor Trend You'll See Everywhere In 2024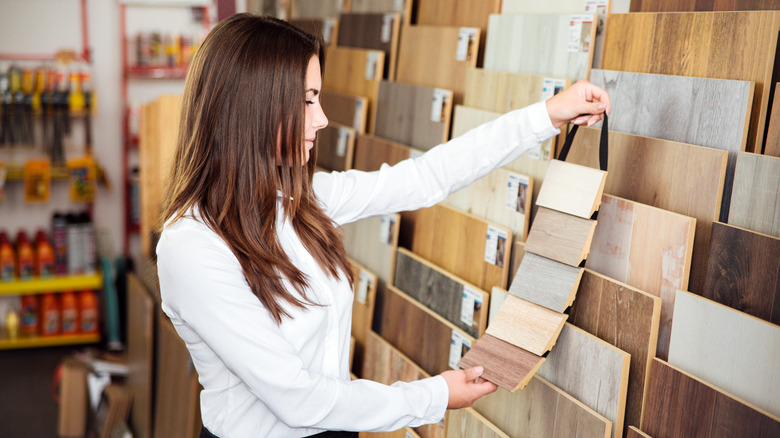 Alyona Tec/Shutterstock
Many homeowners are looking for ways to make statements in their spaces. In previous years, wall paint, unique furniture, and decor helped aspiring interior designers achieve this. For 2024, it's all about making a statement on the floors. Choosing bold flooring can create an unexpected decorative element that provides a base for the rest of the interior design. While wood is one of the preferred materials for flooring, many people are swapping the traditional layout for something a little more decorative. Patterns like herringbone are gaining popularity and are a trend that we'll definitely be seeing more of in 2024. "We're seeing a major resurgence of herringbone floors in design, and it's no wonder," Marc Bacher, founder and CEO of hardwood flooring company Stuga, told Better Homes & Gardens. "They make a modern-classic statement with a touch of boldness."
The herringbone pattern uses rectangular planks that meet in an arrow shape at a point. The boards end at a 90-degree angle, creating a staggered joint. This differs from the similar chevron pattern, where the ends of the board are cut at a 45-degree angle. Herringbone has the benefit of being a versatile flooring pattern that works in both traditional and modern styles. It leans into traditional designs by providing that old-world charm. However, in modern interiors, it can add a bit of visual interest and movement that complements sleek-lined furniture. Additionally, some believe that herringbone floors could improve your home's value, so they may be a worthwhile investment.
How to add herringbone floors to your home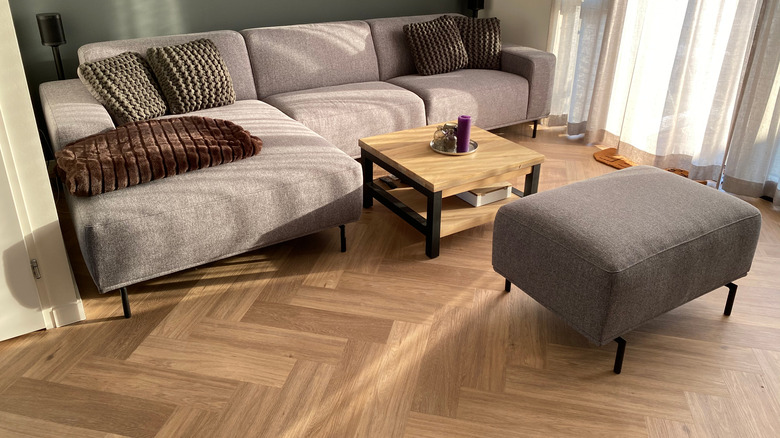 Luckeyman/Shutterstock
A herringbone pattern can elevate the design of any room. However, because of the work involved with the installation, herringbone floors tend to be more expensive than other patterns. Therefore, some homeowners may opt to use herringbone as a feature rather than placing it down throughout the entire home. Smaller rooms like foyers and hallways are great places to feature this pattern. On the other hand, if you want a larger decorative detail, they also look great as the base in living rooms, kitchens, bedrooms, and bathrooms.
When choosing the direction to lay herringbone floors, find the room's focal point. This could be the doors, windows, or other architectural or decorative details. Position the tips of the arrows so that they're pointing in the direction of or away from the focal point. This can help naturally draw the eye to those details. You can also use the direction of the herringbone to widen the room. So, if a room is wider than it is long, pointing the arrows so they follow the room's width will highlight the size of the space.
Another feature to consider is the size of the planks used to make the herringbone pattern. Narrow boards, which are usually under 3 inches in width, tend to be more traditional and classic. These thinner boards also work well if you're after a European lining interior. Boards wider than 5 inches in width give off a more contemporary and modern look.
Other popular playful floor patterns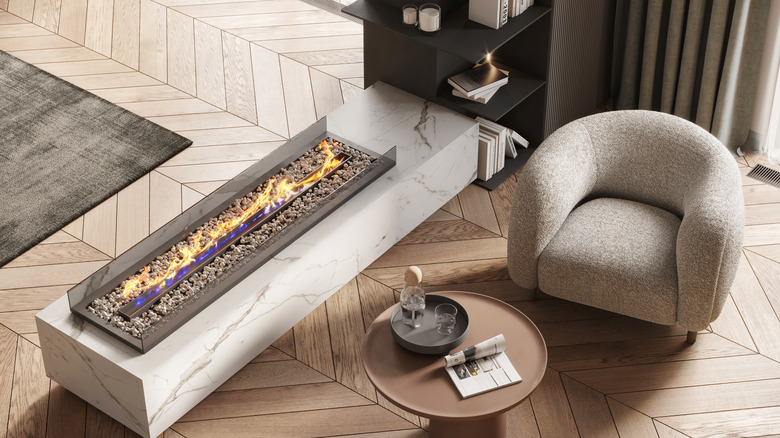 Alvarez/Getty Images
The classic herringbone floor pattern uses one board to create the arrow; however, there are some variations of this traditional pattern. There is a double herringbone, which uses two boards next to each other to create the arrow pattern. There are also variations in which the boards are laid out diagonally rather than straight. Additionally, herringbone isn't the only option when it comes to patterned wood floors. As mentioned previously, chevron is a similar style but the points of the arrows meet at a 45-degree angle, creating a stacked rather than a staggered pattern. Chevron offers a dynamic, decorative finish that errs on the side of being more modern and contemporary.
One of the most classic and traditional wood floor styles is a basket weave pattern. These are often found original in older homes but have been recreated to infuse some charm and character into contemporary spaces. The similar Versailles layout is incredibly intricate and brings a ton of old-world charm to an interior. For a more modern decorative floor pattern, geometric shapes like hexagons and diamonds bring tons of visual interest while maintaining sleek lines.