How To Choose The Right Paint Color For Interior Brick
Prostock-studio/Shutterstock
Exposed brick walls add character and old-world charm to a room. Since the industrial look is in vogue, letting your hidden brick walls do the talking makes sense. Or you could even install thin brick wall veneers if you don't have natural brick walls and decorate them to customize the look. But if you want to breathe new life into your walls and aren't too happy with their customary red look, painting them is a cost-effective way to transform your space. Simply pick neutral paint colors like white, off-white, gray, or black to complement the interior brick.
While you might want to go with brighter shades to turn the brick wall into an accent wall, they might detract from their natural charm, take away their warmth, or turn them into an eyesore. But that doesn't mean that neutral tones are your only option. You can even choose a vibrant shade of red for a monochromatic look, warm greens and mints, earthy tones, or orange for an inviting finish.
Choose the right paint color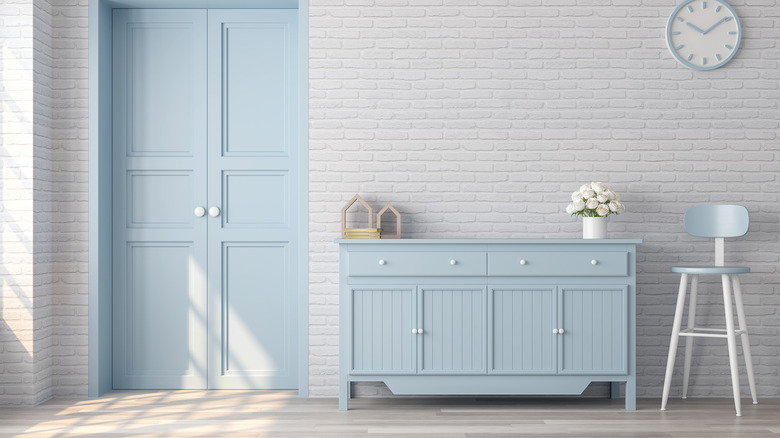 Runna10/Getty Images
Choosing the right paint color for interior brick might seem like a daunting task, but it doesn't have to be. Though white is a safe choice, you can experiment with ivory and taupe to add warmth to the space. You can even whitewash the brick walls for a distressed appearance. But if you'd like to choose a paint color that matches your personality and complements the room, consider the furniture, interior décor, and other decorative items placed inside the room. For a clearer picture, use paint swatches to decide how different shades would look in your space at different times of the day. Some popular options include beige, gray, blue, green, and earthy tones like tan. Dark shades like black and purple might work, too, if you're looking to add a hint of drama. 
Alternatively, if you'd like to retain the authentic touch and feel of brick walls, you can consider painting the surrounding walls to jazz up your space. For instance, tan, teal, terracotta red, off-white, light gray, and dark blue are good options.