Use This Essential Oil Spray To Banish Bad Smells From Your Upholstery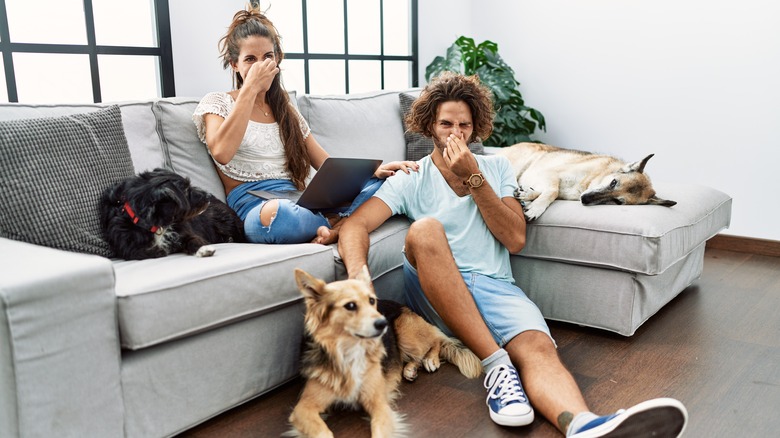 Krakenimages.com/Shutterstock
When cooking odors, smoking, or our beloved pets (who might need a bath) meet with poor ventilation, you've got yourself a smelly problem. Odors don't just hang in the air — they love to cling to upholstery. If you have a sofa and chairs that are covered in porous fabric and there isn't enough airflow to usher out last night's fish fry, we've all been there. So, we love the idea of using a combination of natural cleaning products like water and vinegar, mixing that with a luscious-smelling essential oil, and treating our upholstery with it. 
Getting your sofa professionally cleaned can range from $75 to $350, and it varies based on location and upholstery material. That's a good reason to DIY it, and sometimes weather conditions prevent us from swinging the windows and doors wide open to get a good cross-ventilation breeze going. We like lavender as the oil of choice for this hack. It's a popular, pleasant scent, and there are multiple ways you can use lavender essential oil in your home in addition to reinvigorating your upholstery.
How to use this hack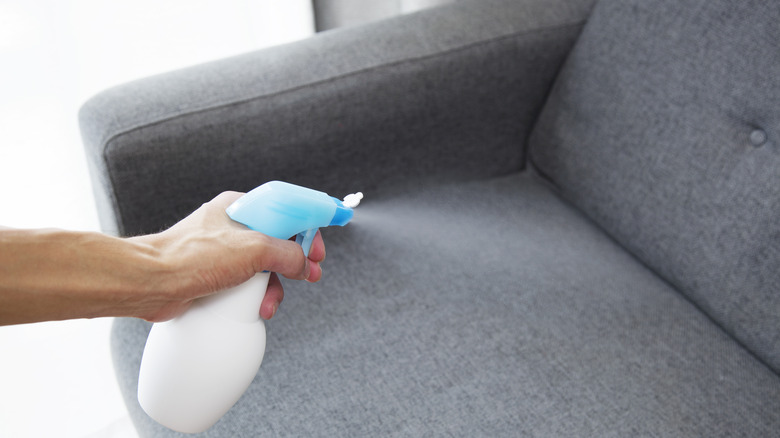 Y_seki/Getty Images
To concoct your cleaning solution, you'll need distilled white vinegar, water, lavender essential oil, and a clean spray bottle with a misting setting. Eventually, you'll also pull out your vacuum cleaner. We strongly recommend that before you wildly spritz this natural cleaner and deodorizer over your entire sofa, you test a hidden corner first to make sure the color doesn't run.
For the proportions, note how many ounces of fluid your bottle holds. We recommend measuring equal amounts of vinegar and water. Then add six to 12 drops of the lavender essential oil. Start with less; you can always add, but if you add too much scent right away, you won't be able to back out, and the fragrance's intensity could be overwhelming. Allow a few hours for the sofa to dry, then vacuum it with the upholstery attachment. 
You can experiment with different scents — if you like a feminine, floral scent, try ylang-ylang. For a crisper experience, you could combine lemongrass with lemon or orange. Beyond the furniture, essential oils do a great job of deodorizing your entire home. Peppermint is another option for deodorizing and freshening up your upholstery, and it's great for making your trash can smell fresh.