Erin & Ben Napier's Smart Trick For Blending An Open Concept Space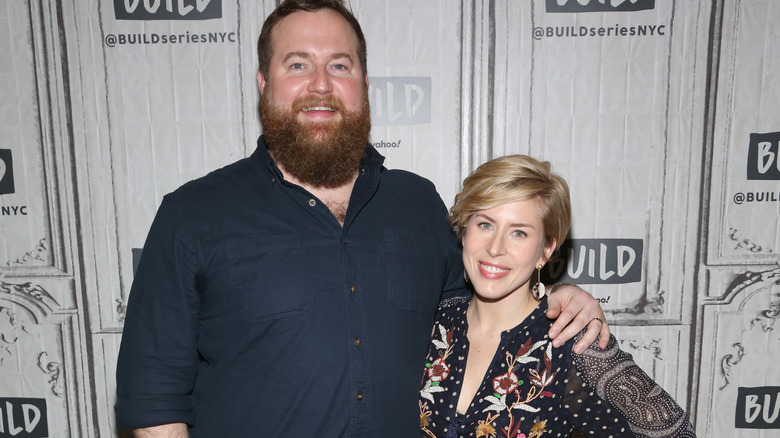 Manny Carabel/Getty Images
Choosing an open-concept design for your home creates an incredible amount of space and gives you countless possibilities for decor and setup. However, sometimes these spaces can benefit from a marker that creates a subtle separation between the living room, kitchen, and dining room. By adding an island, you can change the undefined open concept to a structured space without losing the open, airy vibes. Ben and Erin Napier used this trick in an HGTV home makeover, calling the island a "luxury piece of furniture" that seamlessly blends the different rooms.
Whether you are working with a bigger space or a smaller area, tying in an island between your kitchen and other areas brings a sense of fluidity between them, keeping each one distinct without crowding the general floor plan. Another perk of using this strategy is that it shifts your eating space from requiring a traditional table to a more casual, interactive surface. Islands can be both sophisticated and relaxed at the same time, which allows your kitchen and dining area to feel accessible in any setting.
How to make this trick work for you
If you're remodeling or simply looking to update your open-concept floor plan, adding an island is a fairly simple step that will still transform the finished layout. This piece will also give you the freedom to experiment with everything from texture to different materials and color palettes. In the Napiers' design, they mixed marble countertops with warm wood hues to make the space feel more cozy and inviting without losing any of the openness. Make sure to consider what you will primarily do on and around your island. If you plan to eat at it, consider height and length when measuring how much room it will need. If it will serve as more of a statement piece, bolder materials and hues will ensure it grabs the attention of people entering the area.
Adding cabinets and drawers boosts your storage space, which is especially helpful if the kitchen doesn't have tons already. Keep in mind, that it's best to keep at least 42 inches between your island and other counter spaces. You also want to use this piece to funnel people out and away from where you cook and prep food, so keep it towards the middle or outskirts of your kitchen and add seating on the opposite side of your kitchen space. This will help the island serve an additional purpose and create a great conversational set-up.