How To Capture HGTV's Hilary Farr's Bold Design For A Teeny Bathroom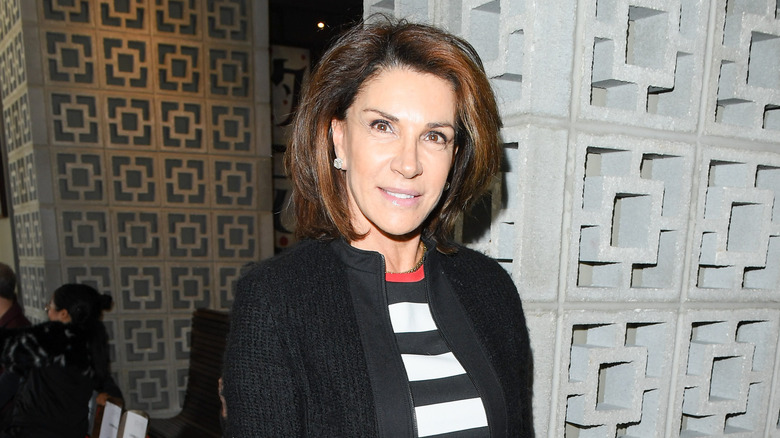 George Pimentel/Getty Images
We may receive a commission on purchases made from links.
Just because a bathroom is tiny, doesn't mean it has to be boring. Designer Hilary Farr, a host on HGTV's "Love It or List It", is the master of bold bathroom designs. Farr's own home even features print wallpaper that brings an exciting liveliness to the powder room. Fortunately for all the DIY designers out there, you can easily spruce up your own small bathroom with a similar look, all you need is quality statement wallpaper. 
A small room, such as a half bathroom, is the perfect space for experimenting with bold interior design concepts that would be too overwhelming in a larger space. A vibrant wallpaper can completely reimagine the energy of a room. What was once a cramped, dark bathroom becomes a colorful and glamorous environment. 
If you want to try a bold wallpaper pattern in your bathroom, check out extravagant prints like this geode version on Etsy. And for a more temporary experiment, consider peel-and-stick wallpaper, such as this citrus print from Home Depot. Follow Hilary Farr's cue and get an oversized print that brings a new scale and dimensionality to an otherwise small room. Opt for deeper hues to make the space feel bigger, or stick to light colors to enhance the brightness of the room. Once you have selected your print, you're ready to put your bathroom design plan into action.
Recreating this bold bathroom look
Farr ensures that her bathroom designs aren't overwhelming by allowing the wallpaper to take center stage. Keeping the mirror simple is key, like this budget-friendly option from Target. Depending on your wallpaper print, you might go for a black, silver, gold, or wood-framed mirror, using the palette and vibe of the wallpaper to help you decide. A large mirror will also help create an illusion of a larger space and reflect more light around the room. Minimal yet functional light is also key. These sconces from Amazon, for instance, are similar to the ones used by Farr and would bring a classic warmth that flatters a dense wallpaper print
Finally, be mindful of the hardware and other small details. If you're dealing with a small sink, don't overcrowd it with an extravagant faucet — instead, look for compact, tasteful designs. A tiny decorative piece, like a bud vase or candle, is the perfect finishing touch. Artificial flowers work just fine, but having a real stem that you regularly rotate out will add a lovely element of sophistication. And with those final decorative touches, your bold bathroom will feel intentional and serve as a fabulous statement room in your home.