Give Your Stairs A Major Glow-Up Using Only Products From The Dollar Tree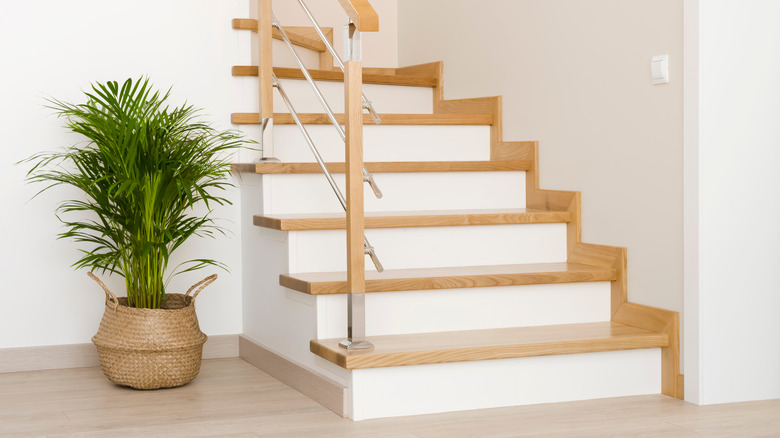 Didecs/Shutterstock
The Dollar Tree is a treasure trove of products just looking to make over your home in new and exciting ways. With a little imagination and even less cash, you can pick up all the materials you need to create a whole new look for a room or update your organizational systems. The number of Dollar Tree hacks that pop up on YouTube and TikTok can give you inspo for many areas of your home. And this one will give your staircase an unbelievable upgrade using peel-and-stick wallpaper.
The stairs of your home are easily overlooked. They serve a function, allowing you access to the different floors of your house. But, they're not exactly the first thing people think of when looking to update their interior design. Yet everyone sees the stairs, multiple times a day, so why not bring some excitement to their appearance with an elegant makeover? Luckily, Dollar Tree is here to help.
Wallpaper your stairs
To create a bold new look on your stairs, look no further than Dollar Tree's peel-and-stick wallpaper selection. The store has many different designs and styles, and they come in sheets of 16x11. You'll be applying the wallpaper sheets to the step riser (the vertical portion) which averages between six and eight inches high. Lay the sheet against the riser horizontally with one end flush against the bottom, and make a crease with your fingernail or other instrument to mark where the top of the riser falls. Using this mark, cut three sheets at a time to make sure they are all the same height.
Measure and mark the middle of the width of your step riser, then center the first peel and stick the wallpaper sheet against the riser. Take your second sheet and match its pattern against the first one so it looks seamless. Adhere the bottom inside corner of the sheet and move outward pressing it flat, then repeat the process on the other side. Do this for every step, and in no time you'll have created a stylish staircase focal point.