The TikTok Garden Digging Rule You Should Remember After A Rainy Day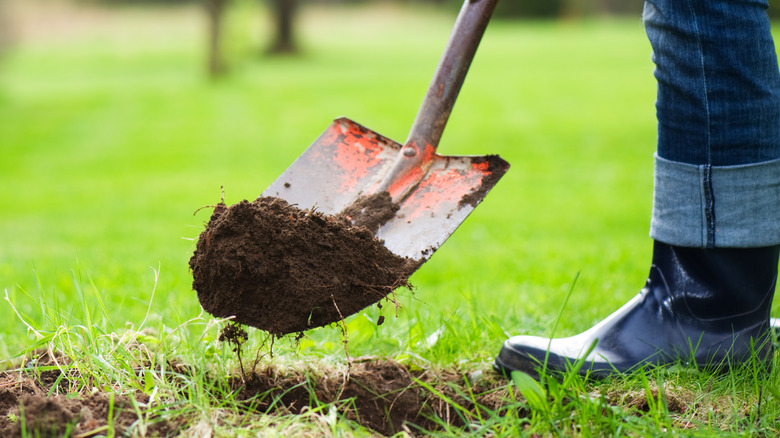 Eerik/Getty Images
Digging up your garden can be strenuous work, to say the least, especially if you cover a large area. However, it turns out that there are actually specific weather conditions that can make the task even more challenging than it already is, according to one user @roamwildwitholiver on TikTok. So, what should you be looking out for? When it comes to digging, you should ideally be avoiding the rain. Not only can it make the task more difficult, but the rain is also no fun to be outside in for long periods of time — even in a coat.
Bearing this garden rule in mind should help you save precious time and effort when it comes to making any changes to your garden. However, what makes this digging rule so important to remember? As it turns out, it all comes down to the soil. But what specifically about it? We'll take a deeper dive below.
Avoid digging wet soil
When it comes to digging, avoiding wet soil is a must to make the job easier. In his TikTok video, @roamwildwitholiver explains why this is so: "After learning my lesson here, you can see me digging through the dry soil, and I was absolutely ripping through it. The dry soil was like a knife through butter; the wet soil was more like cheese," adding that you should "always dig in the dry." So, what does this mean for you? Well, if it's just been raining, the chances are that you want to avoid digging. Instead, you should wait for drier conditions to start. As a result, you should make the whole digging process much easier for yourself. Likewise, you should also avoid planting seeds in wet soil. 
If you live in a climate where it rains a lot, you should plan to do any digging during the warmer summer months if it's possible. However, if you can't wait, leave it for at least seven days until attempting to dig, according to Hills Irrigation. This will give enough time for the moisture to leave the soil, making it easier for you to do your work. So, what actually happens to the soil when it's raining?
Wet soil is difficult to work with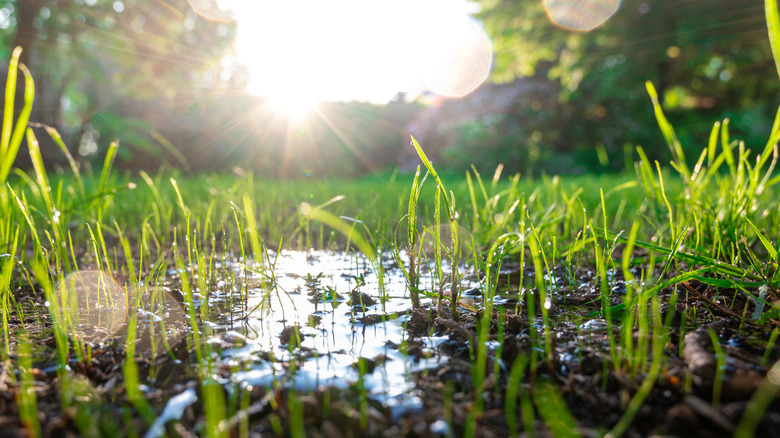 FrankHH/Shutterstock
One of the main reasons why wet soil is so difficult to work with is because when it rains, the water makes the soil sticky, which can make it a nightmare to dig through. This is likely one of the reasons why the user in the TikTok video struggled to dig as smoothly in such conditions. On the other hand, dry soil is looser than its wet counterpart, so your shovel can glide smoothly through it. While it may not seem like it makes such a big difference, it can be night and day when working with it. This is why you should ensure you wait for your soil to dry, and complete any gardening tasks after heavy rain.  
Of course, you can always work with wet soil if you choose to — just keep these challenges in mind. To make the process easier for yourself, you should also consider what type of soil you have. This will help you figure out how long it could take to dry. So, instead of immediately reaching for your shovel right after it rains, sit back and be patient.