TikTok's Toilet Wand Cleaning Hack Is Too Enticing Not To Try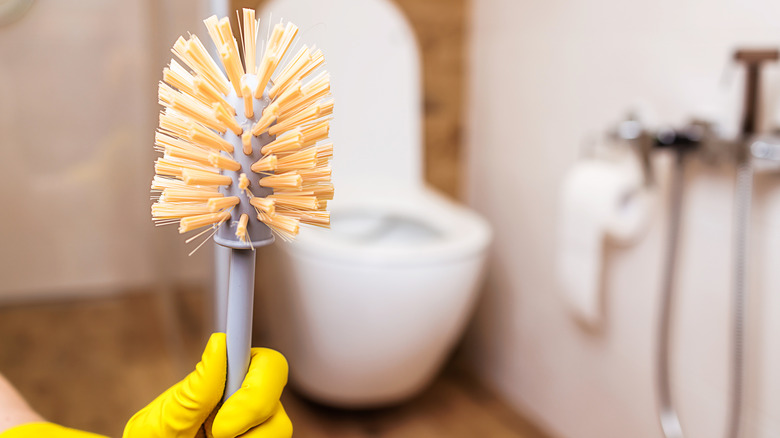 Natallia Ramanouskaya/Getty Images
There's a new TikTok cleaning hack to try, and it involves the Disinfecting Toilet Wands from Clorox. Everyone already knows the usefulness and convenience of this cleaning tool for scrubbing down your bathroom, but it turns out the wand is not necessarily just for toilets. Industrious TikToker user @donnamendoza35 took their toilet wand for a spin around their baseboards and window sills. The results are impressive, and it makes trying this latest TikTok cleaning hack an incredibly enticing prospect.
There are various benefits of using the Clorox Toilet Wand, such as being incredibly easy to use. Simply attach the single-use scrubber to the end of the wand and work it around the bowl until the pre-applied detergent is used up. If the toilet isn't spotless yet, you can attach another scrubber. They're quick and easy, and since the pads are disposable, you don't have to clean your toilet brush, and you're not left with a potentially contaminated item sitting in your bathroom. Wouldn't it be great to also have an effective and disposable scrubber for your millwork?
Use a Clorox Toilet Wand around the house
The Clorox Toilet Wand works because when the pre-treated disposable pad hits the water, the cleaning solution is activated and can scrub away the toilet bowl stains. Therefore, to use the wand in other areas of the house, simply attach the pad to the wand and wet it either under the faucet or in a small bucket. The wand then works beautifully in scrubbing baseboards and window sills, as shown in the TikTok video. The wand is great for this in particular because it limits the amount of bending and reaching you'll need to do to clean your space. Of course, as with anything, test it in an inconspicuous area first to make sure it doesn't cause discoloration.
Other optional cleaning areas are walls or hard-to-reach areas. Avoid using the wand to clean places that will come into contact with food, of course, and people with sensitive skin should be cautious with its application. However, anywhere that you would normally clean with a Clorox all-purpose or multi-surface cleaner should be safe to clean with your Clorox toilet wand. It's yet another way TikTok has revealed an easier way to face our daily chores and make them much easier to accomplish.