HGTV's Jenn Todryk Says These Design Trends Are Making A Major Comeback, But With A Twist
Dariusz Jarzabek/Shutterstock
It's no secret that design trends go in and out of style all the time. What was once considered outdated will certainly come back into trend in a few years. Trends can often be separated into four categories: micro, mainstream, macro, and megatrends. As interior design becomes more personalized, many people are bringing features that were once considered out-of-style back into their homes. Jenn Todryk from HGTV's "No Demo Reno" has noticed quite a few older trends becoming more popular in contemporary homes. "Arches [are] a big one. Any kind of ornate, stacked molding, like Colonial vibe — that's another one," she told Realtor.com. "We're seeing more traditional elements come back into design, but it's getting modernized ... Older homes are definitely coming back. It's not the big open floor plan anymore. People are embracing the small little rooms; [it's] more charming." These trends that have been on the rise show a stark change from what was in style just a few years ago. 
Before, modern style influenced interiors, creating rooms that had a neutral color scheme and furniture that was mostly straight and sleek. However, as the trend cycle moves, those modern interiors are beginning to feel more austere and uninviting, which has led many to seek out traditional styles that feel cozier. However, these trends are not coming back exactly as they were when they were at the height of their popularity.
Tradition but make it modern
More people strayed from the ultra-modern interiors in favor of trends that feel traditional. Jenn Todryk notes that open floor plans are falling in popularity, and the separation between rooms is coming back into trend. This is partly due to the COVID-19 pandemic, where people had to stay home, and the need for different spaces to serve different purposes was desired. One open room was less practical when people were working, studying, eating, and relaxing. The ability to leave a room after finishing work or switch gears and have a dedicated workspace has become the norm.
Separate spaces, once antiquated, have come back into fashion. Many homeowners are modernizing them with unique interior design, taking more risks, and going for more dramatic details. Vibrant colors, bolder wallpaper, and architectural furniture help create vignettes that make the room feel more in line with contemporary design but also help create a mood and atmosphere for the individual space. Architectural features like arches have also come back into trend. Popularized in the 1960s and 1970s, arches quickly fell out of fashion in favor of clean, straight lines. However, because of the unique detail and the way it draws the eyes upwards, the curved design has become more popular. Modern arched details include cutouts in walls to create built-in shelves, arched windows, and doorways. Decorative accents like headboards, mirrors, and painted accents are great ways to incorporate arches without a renovation.
All in the details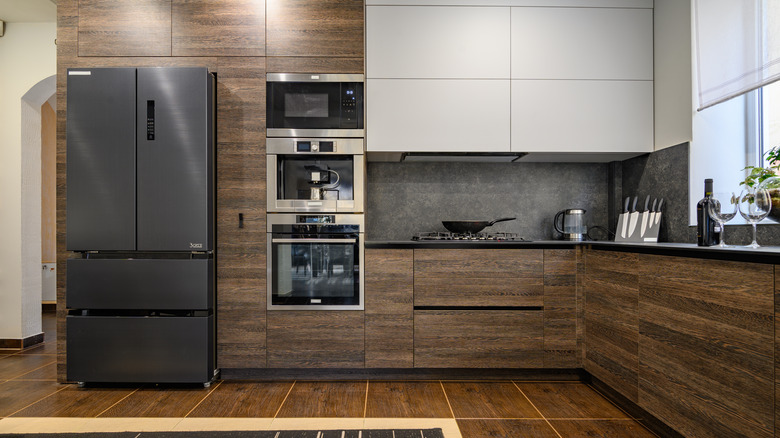 Serghei Starus/Shutterstock
Even the smallest decorative details are coming back into trend. Jenn Todryk notes that dark wood stains are gaining popularity when neutral gray and lighter stains have reigned supreme, per Realtor.com. Darker stains feel more traditional, so the resurgence makes sense as homeowners opt to evoke that traditional, cozy feeling in their homes. Todryk notes that the darker stain is often used as an accent piece, such as on the island or in lower cabinets to ground the kitchen. Pairing dark wood-stained cabinets or floors with moody blue, red, green, or purple paint shades feels more contemporary than when dark wood tones were originally in style.
Details like stacked molding are also more on-trend. Molding can add a finished look to a room and can elevate the design. Many homeowners are using paint to make this traditional detail feel more contemporary. Instead of having it contrast with the wall colors, consider painting the molding the same color to create the appearance of taller walls. Paint the molding and the ceiling the same statement color. Or indulge in the contemporary trend of color drenching by painting the walls, trim, and ceiling the same color.