This Laundry Room Counter IKEA DIY Is A Game Changer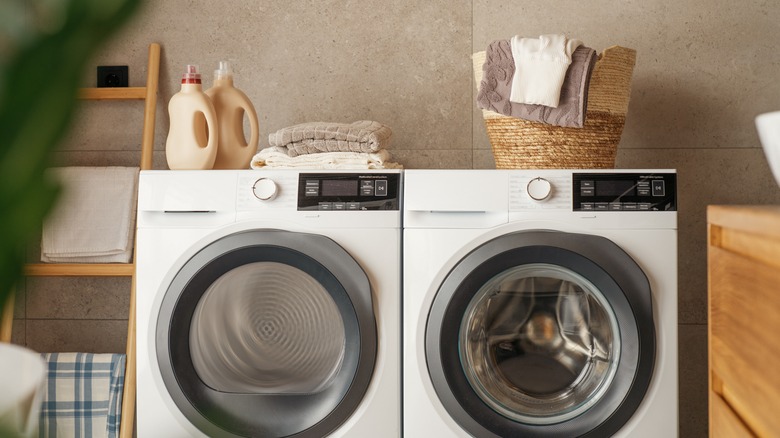 Yuganov Konstantin/Shutterstock
We may receive a commission on purchases made from links.
Laundry rooms were once simply the place where the washer and dryer were kept, but in recent years, many people have made this room more of a focus in their home's interior design. With the addition of stylish tiles and painted cabinets, this area of the home is now a pretty place rather than one that's hidden away. Further, along with new design features, many home DIYers have come up with ways to create a more functional laundry room as well. This IKEA hack uses the LAGKAPTEN tabletop to create a much-needed flat surface for the room. Because these tabletops range from about $25 to $130, this DIY project is much less expensive than a built-in structure for laundry storage.
This hack allows you to add a flat surface to this space, providing a dedicated area for folding clothes, fighting stains, or organizing all of your laundry room needs. The table that this IKEA hack creates is also flexible, allowing you to place it over a washer and dryer or let it be free-standing in the room. If you want to simplify this DIY, use metal legs, such as these from Amazon, for the base of the table. These legs are typically around $70 and come with the necessary screws, making the total cost of the project between $95 and $200. You could also use ½-inch galvanized steel pipes to create a custom or adjustable table height, and we'll explain how to do this below.
Custom laundry room table
This DIY IKEA hack is easy enough to do on a weekend. Amanda Smith, who goes by @livingthis.smithadventure on Instagram, explains that she completed this project in less than two hours. Smith purchased the ½-inch galvanized steel pipes from Menards, using four 36-inch, four 2 ½-inch, and two 24-inch long pipes. She also used four tee fittings and eight floor flanges. All of this material cost her about $100 in total. In a comment on TikTok, Smith mentioned that you could use different lengths of pipes or combine pipes to create a custom leg length that fits your laundry room.
Smith places the tee fittings onto the 36-inch pipes and then attaches the 2 ½-inch pieces on top. The 24-inch pieces attach to the two tee fittings horizontally between the 36-inch pipes, while the eight floor flanges attach to each end of the pipes. Once the two sides of the table legs are constructed, she flips over her tabletop and places them upside down on the surface. Smith says to use a level and twist the bottom floor flanges until the legs are the same height. Use screws and an electric drill to attach the legs to the tabletop. Once everything is secure, flip over the table and slide it on top of the washer and dryer. Now, you have an easily accessible surface to store laundry necessities, place baskets for loading and unloading, or fold your clothes.