Take A Tip From HGTV's Jenn Todryk By Putting Extra Storage At The End Of Your Kitchen Island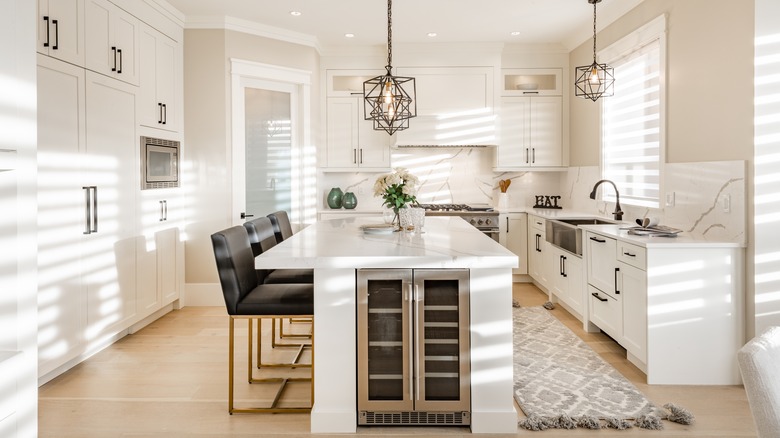 Sheila Say/Shutterstock
A kitchen needs to be as functional as it is beautiful. While making decisions on backsplash tile and cabinet colors might seem like the biggest factors, finding ways to incorporate more storage will help when actually using your kitchen. Smart storage will improve a kitchen's functionality, making it easier when putting away groceries, finding ingredients, or actually cooking. And finding new creative storage methods can help make your kitchen more customized. Jenn Todryk from HGTV's "No Demo Reno" is no stranger to getting creative in her renovations. In one of her projects, she adds extra storage to the end of a kitchen island so the homeowners can keep the countertop clear.
In season 2, episode 3, Todryk creates wooden bins with glass fronts and places them at the end of the kitchen island (via HGTV). The doors to the bins slide out and allow the homeowners to store produce, avoiding a mess on the countertop and providing a dedicated storage space that is easy to access. The homeowners excitedly tell Todryk that she "nailed it," and it's not hard to see why this feature wouldn't be a new must-have detail in every kitchen.
Smart use of space
One way to get creative with your storage is to look for spaces that are usually left unused and figure out a way to make them more functional. The end of the kitchen island is often left bare, making it the perfect location for more storage. What's also great is that this space can be customized to your needs. The glass-fronted bin drawers don't only have to hold loose produce. This can be a place for other often-used ingredients like pasta, breads, spices, and other things that don't have to be refrigerated. They can also serve as an easily accessible snack drawer for after-school chips and cookies.
However, drawers aren't the only storage option for this area of the kitchen. Consider a mini fridge where you can keep drinks to quickly grab or to keep chilled for a party. You can also add shelves to store cookbooks. Opt for shelves with a deep depth, and you'll be able to display items or keep large cookware like casserole dishes and pie pans. Also, feel free to mix and match storage designs to ensure it's serving your kitchen needs.