Take Your Kitchen Cabinets To The Next Level With This DIY Upgrade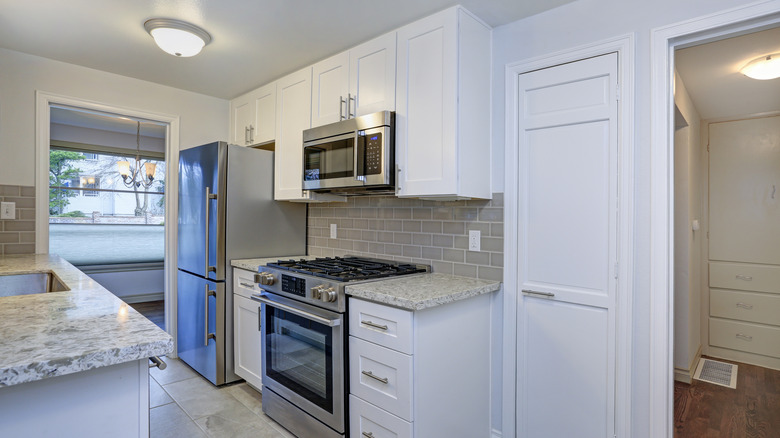 Alabn/Getty Images
Kitchen remodels can get pretty costly, which is why some of us opt to install our cabinets ourselves using store-bought pieces instead of customized units specifically built for our kitchen by a carpenter. But there is a way to give your kitchen a more customized look while still going the DIY route — create shaker-style end panels from cabinet doors. 
End panels are covers that go over the sides of cabinets or any exposed base or wall of your cabinet to give them a seamless and more decorative look. They can also create a cohesive look between your cabinets and appliances or fixtures. According to Nelson Cabinetry, this will "lend an illusion that your kitchen joinery is solid and well-constructed. End panels give a neater finish and a more uniform appearance to your kitchen."
In other words, it's a newer trend in kitchen home design that gives off a more high-end and customized-looking finish. You'll often see it used in conjunction with shaker-style cabinets since this style already has a decorative look to them. Luckily, you can add end panels to your existing cabinetry without calling a carpenter by using TikToker @randomdiyguy's door hack. 
How to create end panels for your cabinets
The hack requires cabinet doors that will fit within the width of the sides of your cabinet. You can get a custom-sized shaker cabinet door for around $19 at The Home Depot, which you can paint to match your cabinets. You can also create a similar look with some pieces of plywood and paint. Or you can buy actual end panels, which are about $20 at The Home Depot. You'll also need some screws and painter's tape. 
To start, you'll drill four pilot holes into the sides of your cabinet. You'll use these holes later to drill your door from inside the cabinet. Next, mark where you want to add your door using some painter's tape. Place some double-sided tape on the back of your door. Then, press your door onto the side of the cabinet where you marked it with tape. 
From the inside of the cabinet, screw your door in using the holes you made in your first step. Just make sure you're using screws that are long enough to secure your door to the cabinet but short enough so that they won't poke through your door. If you have tiered cabinets, you might need to use multiple doors.