Choosing Pure White Carpets Is A Design Mistake - Here's Why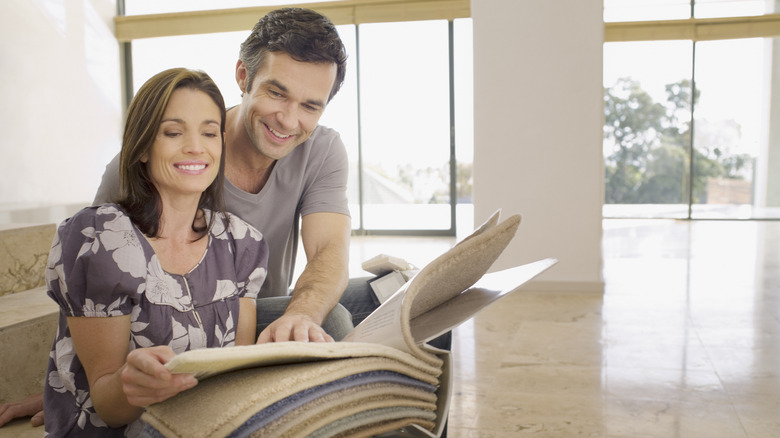 Chris Ryan/Getty Images
The idea of having a fresh, modern living space, whether it's an apartment, condo, or house usually conjures up a bright, open area. Perhaps you envision light-colored floors and drapes to create a clean, fresh feel. Many home design photos show clean and crisp rooms featuring white curtains, furniture, and carpet. However, choosing the same for your space can be a big design no-no.
The temptation to opt for the pure hue can be especially attractive when you move into a new home and want to start over with everything clean and new. After all, having white surfaces gives rooms a fresh and airy feel. And, when your surrounding space is well-lit, it can even boost your mood and stave off depression (via Harvard Health). The only problem is that when it comes to white carpets, they may not stay flawless and clean for very long. From being tough to decorate around to having intense maintenance requirements, here's why choosing them for your floor is a mistake.
Why white carpet is problematic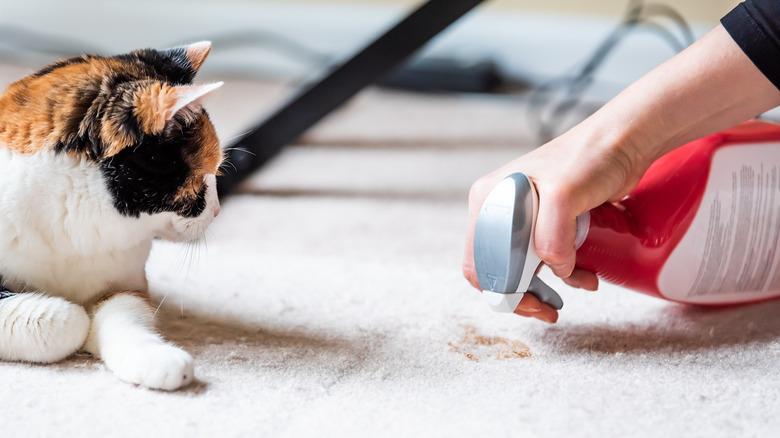 Krblokhin/Getty Images
If there is too much white in one room, it can backfire. This is especially true if you're planning on having white furniture or your walls are painted a very pale shade. Artem Kropovinsky, interior designer and founder of Arsight told House Digest, "While they can give a room a fresh, airy feel, matching other elements can be a challenge without making the room feel cold or sterile." 
Another reason to ditch pure white carpet is simple cleanliness. It essentially provides a colorless backdrop that highlights everything from animal hair to specks of dirt. So, you'll have to invest time and effort into rigorous spot cleaning, vacuuming very frequently, and deep cleaning them on a regular basis. That can add up financially in terms of professional cleaner fees and supply purchases. Even with proper care, they will likely look permanently dingy sooner than other shades, leading to earlier-than-ideal replacement costs.
There are various ways to incorporate smaller pieces of white carpeting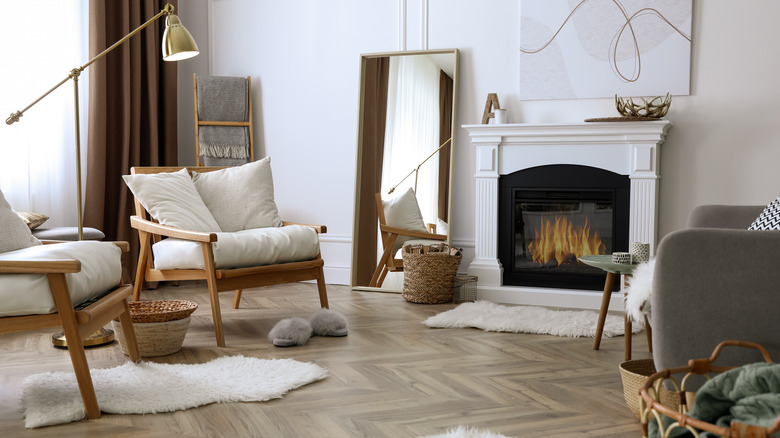 New Africa/Shutterstock
If you would like to add a splash of white here and there and choose to forgo wall-to-wall white, a few white area rugs can do the trick. They can brighten up your room without covering the entire floor. A great way to ensure these stay as clean as possible is to buy a washable one like the Egret White Shag version from Ruggable. This has a removable cover that you can easily toss in the washer when it gets dirty. Keep in mind that it's still vital to spot clean as soon as you notice a stain. 
If you still just want a wall-to-wall white carpet despite all of its setbacks, place it in a room that gets the least amount of foot traffic. White carpets tend to stay cleaner in a bedroom or an office rather than in a busy living room where the family gathers and guests congregate. You can also make it a house rule to not wear shoes when stepping on the carpet and avoid eating and drinking in that room.