Add This Flavorful Herb To Your Garden To Keep Flies At Bay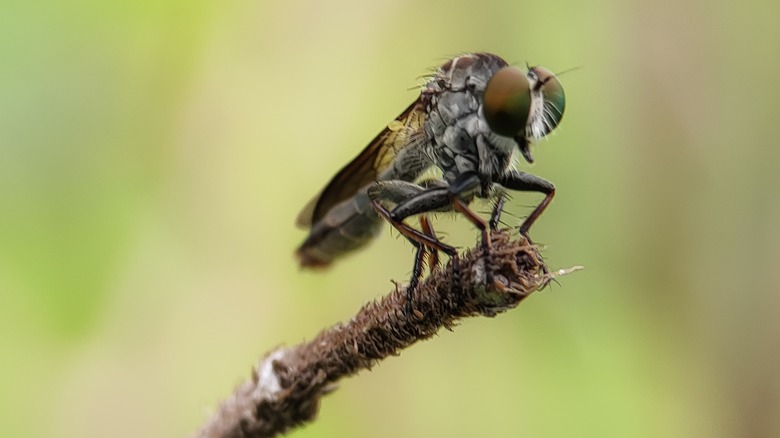 Alangrapher/Shutterstock
We share our space with up to 120,000 types of flies, says AZ Animals, reflecting just how many are buzzing around outdoors. Flies are notorious for managing to find their way into your house, but it can be even more frustrating once they find their way to your beloved plants. Of course, it's impossible to keep an eye on the plants in your garden every minute of the day. This is where one helpful herb comes in. Say hello to rosemary. This flavorful herb can help deter flies and keep them from potentially damaging your plants, leaving you to enjoy your plant collection in peace.
If you've been having trouble with flies in your garden, this hack offers a natural way to eliminate the problem once and for all. But, where should you place your rosemary, and how much do you need to use? In this article, we'll take a look at some of the best practices, so you can effectively implement this herb with minimal fuss.
You don't need much rosemary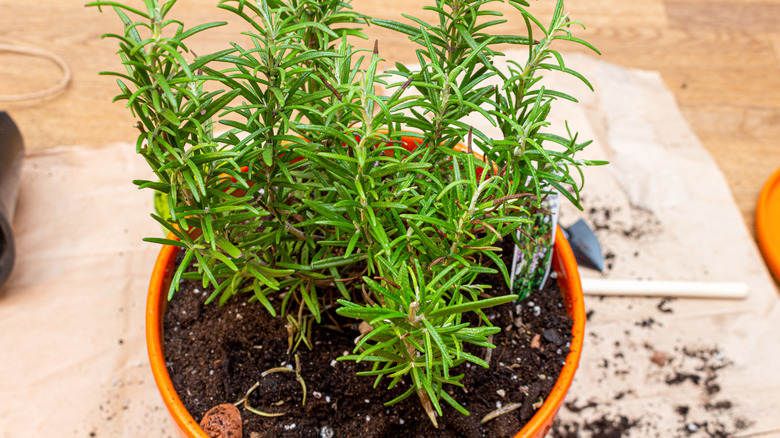 Vitalii Bezverkhii/Getty Images
As it turns out, you don't need much rosemary for this trick to work. Just add a few cuttings around the fly-infested areas in question, or plant some rosemary that isn't too young. You should plant it where there is plenty of sun, as it will allow rosemary to be more effective at protecting your other plants. Likewise, whichever garden species you decide to plant it near, leave roughly 18 inches between them to give them enough room to grow together. If you do it correctly, you should soon notice fewer flies swarming around your garden than before. You can always plant more and experiment with placement if you feel as though it's necessary.
Flies are attracted to plants such as sunflowers, Japanese euonymus, easter lilies, and clover, to name a few. However, this largely depends on the type of fly. If you want to avoid attracting flies, try to avoid implementing any plants that entice them.
The scent wards off lurking flies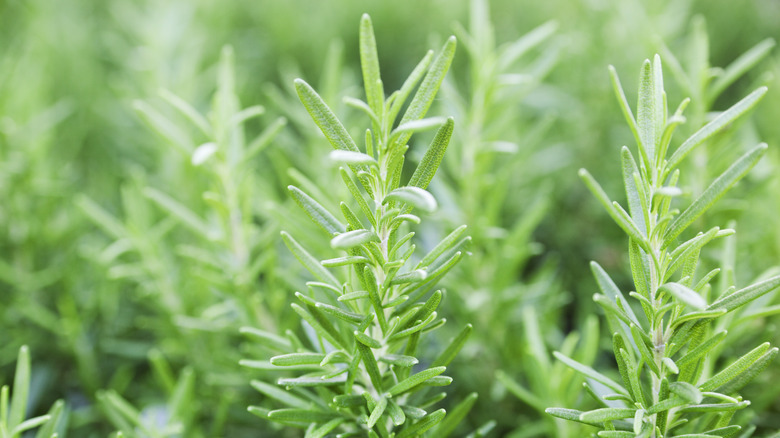 Yinyang/Getty Images
As it turns out, flies have a very strong sense of smell. Speaking to the University of Connecticut, neuroscientist Karen Menuz explains how it works: "When an odor binds to a receptor, the cell depolarizes, and sends a signal saying 'hey, the odor is here!" We can apply this same theory to plants that flies don't like. In this case, the smell of rosemary helps to ward off flies, as it's a powerful smell they detest. Even better, flies should be able to sense the scent well before they're able to land on the plants in your garden. This makes rosemary the perfect natural deterrent to scare them off.
If you decide to use rosemary in your garden to eliminate pests, you should introduce it during the months of spring. This will give it the best chance to flourish. Alternatively, you can always grow it from scratch using seeds, but this method will take much longer, and you'll have to wait to see results. Either way, just make sure to take care of your rosemary to maintain its potent effects.