The Herb That You Want To Keep Far Away From Your Dahlias In The Garden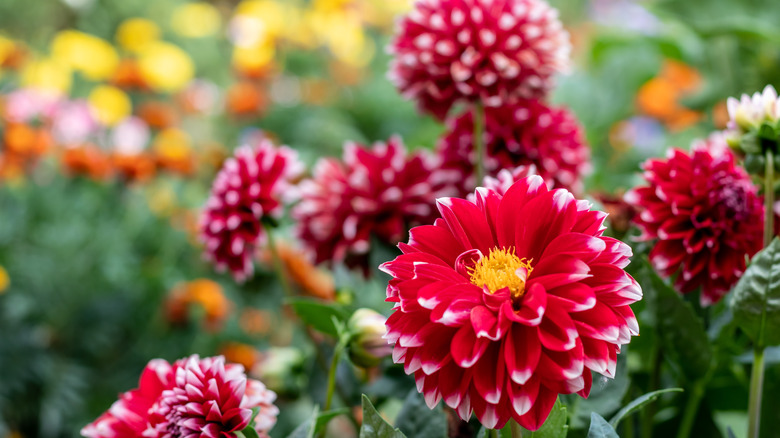 Serhiy_Chaiko/Shutterstock
There's nothing more exciting than selecting what flowers to plant together in your garden. You might be dreaming of your perfect plant pairings. If you are a proud owner of dahlias, then you may already be fond of their elegant splash of color. However, if you want to keep these flowers in their best shape, then you should always avoid planting fennel close to it at all costs. This guilty culprit can harm your dahlias in more than one way. Although it may not suit what you had envisioned for your garden, it's always best to play by your plants' rules.
By giving these two plants plenty of space, you should be able to create a healthy garden as a result. However, what makes fennel such a problematic partner in this case? Below, we'll take a look at why you want to keep this cunning herb away from your dahlias in the garden.
Fennel can stunt dahlias development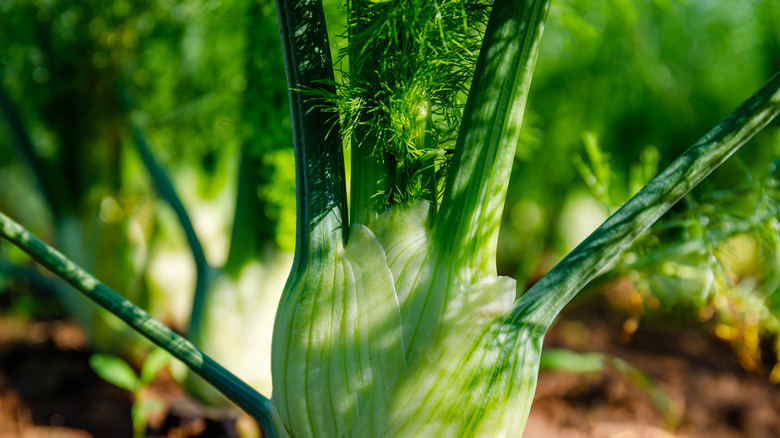 nnattalli/Shutterstock
Although you may mistakenly plant your dahlias with this particular herb, it's never a good idea. As it turns out, fennel can stunt your dahlias' development, meaning you will probably have to buy more to replace them. This negative impact all boils down to the allelopathic chemicals found in fennel, which may impact dahlias' ability to absorb nutrients and affect their height and color. As a result, your dahlias won't be able to thrive as they normally would and, thus, won't have as much impact on your garden space. This will cost you both time and money after having to rectify the issue, and it's for these reasons that it's best to keep the two species entirely separate.
In addition to keeping the fennel far away from your dahlias, you should also ensure that you put them in the ground roughly 2 feet apart and in an area of your garden that sees plenty of sun. This will help them to thrive so that they can look their best. However, are there any plants that are useful grown near your dahlias?
Dahlias prefer other flowers over fennel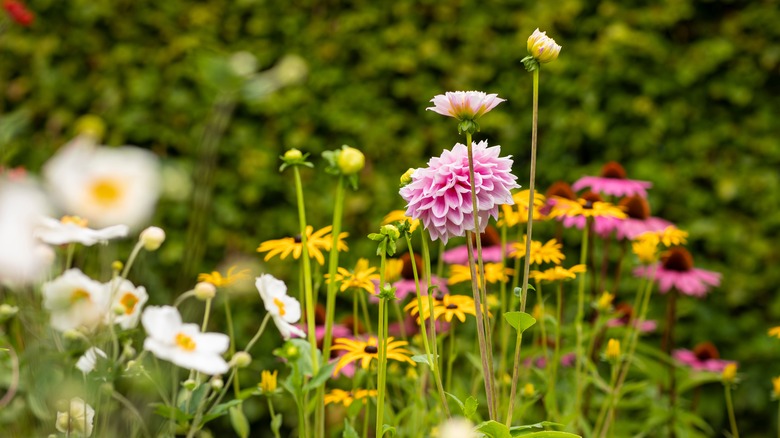 Lea Rae/Shutterstock
While fennel is a no-go for dahlias, there are some other suitable companion plants you can use in their place. For example, dahlias pair well with other flowers such as cosmos, ammi, agapanthus, bee balm, and rosemary, to name a few. However, the extensive list is much longer. In fact, award-winning head gardener Steven Edney recommends: "It's a good idea to put plants which like the same conditions together, rather than trying to look after plants in groups differently," per The Middle Sized Garden. While this may require a dash of experimentation and research on your behalf, it gives you the creative freedom to add whatever colors you like.
By managing the correct combinations of companion plants, you can create a garden simply bursting with color. When it comes to your fennel, it should be grown alone or alongside other companion plants that aren't affected by its allelopathic chemicals. If you're unsure, you can always consult a professional.