Christina Hall's Gorgeous Design Blends Indoor & Outdoor Living Space. Here's How To Steal The Look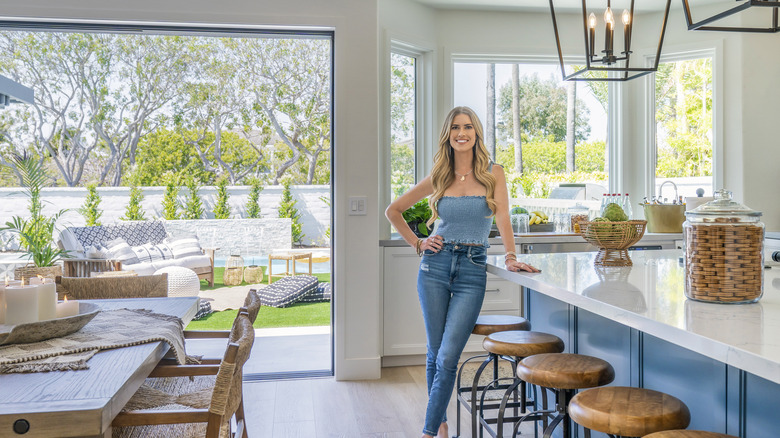 HGTV
Having a deck or patio is great when you want to enjoy fresh air or entertain friends and family outdoors. Though these are sought-after features, they can often feel separated from the rest of the home. However, when a home's interior flows seamlessly into the outdoor space, it instantly feels like an increase in square footage. Christina Hall, star of HGTV's "Christina on the Coast" and "Christina in the Country," has used accordion doors to help connect these spaces.
Accordion doors are a type of folding doors that use multiple panes of glass. These floor-to-ceiling panels fold completely out of the way, removing any barrier between inside and outside. In one remodel, Hall opted for accordion doors to connect a patio with a pool right to the kitchen. The wide open doors allow you to walk right outside as you would wander from one room to another within the house. 
These doors are also great for entertaining, allowing guests to flow in and out at their leisure. And, even when the doors are shut, the large panes allow for plenty of natural light and unobstructed views. Seeing the outdoors while relaxing inside helps blend the two and can also make your interior feel larger.
Connect the indoors and outdoors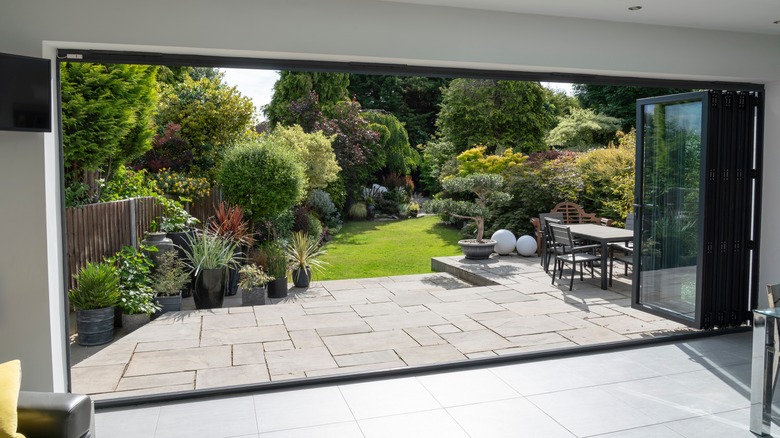 Wormsmeat/Shutterstock
Compared to other types of patio doors, accordion doors offer the most seamless blend. Other glass options, such as French or sliding doors, also offer natural light. But, these types of doors typically don't open wide enough to create an uninterrupted feel between the interior and exterior of your home. If you are working with an existing space, you'll need to have a professional expand the opening of your exterior wall, adding a support beam if necessary. Then, you can order custom accordion doors that span the opening and have them installed.
To further reinforce the look, consider having the same or similar material for the flooring in the home as the patio to create a seamless visual link. If you don't want to choose an indoor-outdoor flooring option, use two materials that look somewhat alike. You could opt for wood flooring inside and wood-look-stamped concrete in a matching color outdoors. Or go with a tile floor inside that has characteristics in common with your outdoor patio pavers.
You can also choose furniture that has a close finish and color scheme both inside the room and out on the patio. This may not mean using a rattan sofa both on the patio and in the living room. But, you can still choose wooden indoor furniture with a similar stain. Coordinating the color scheme of accent pieces also creates a cohesive look. Outdoor cushions and pillows can follow the same palette as the textiles inside the home for a fluid impact.