What An IKEA Bookshelf Can Do For Your Closet Storage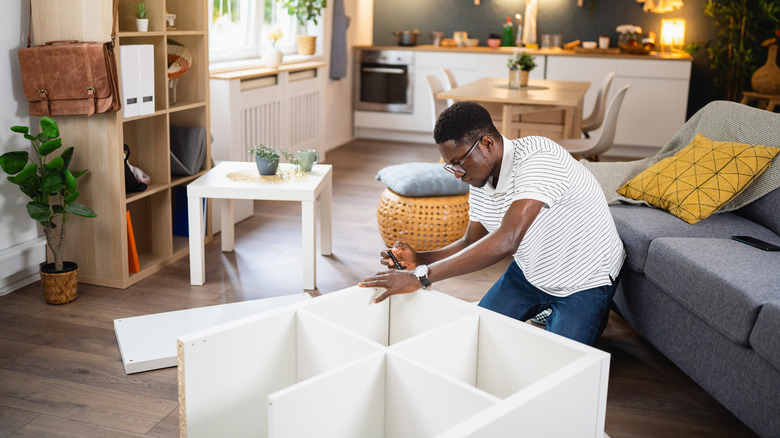 Srdjanpav/Getty Images
Looking for ways to reduce your stress when trying to get ready in the morning? The answer lies in having organized closets. Scientific studies show that unorganized clutter causes stress and throws us into fight or flight mode. That's literally the last thing we need trying to rush out of the house. Having a picturesque storage closet will eliminate that aggravation altogether. Using IKEA bookshelves in your storage closets will create a soothing and orderly atmosphere, while also helping you save time by being organized. They can also be adjusted to create an upscale customized shelving look.
An IKEA bookshelf makes upgrading your closet both easy and inexpensive. While IKEA has a variety of bookshelf systems, we recommend their KALLAX shelving units for storage closet organization. IKEA offers tons of accessories for these shelves to make them functional for storing clothing, shoes, and any other extra items for your household. You can even add several shelves to your closet to designate separate storage areas. They can also be stacked and modified to appear as a custom high-end-looking wall-to-wall built-in closet system. Another option is to leave out some of the shelving pieces to create larger cubbies or add a tension rod to create hanging storage. 
How to get the most out of your storage closet
IKEA KALLAX shelving system consists of cube shelves in different forms, from two cubes to 25, and ranging in price from $40 to $260. The different-sized sets can be stacked to create a customized shelving system without having to call a carpenter. TikToker @keesha.kc uses a 12-shelf unit, which goes for $160, on both ends of her closets to separate her items from her husband's.
What makes IKEA KALLAX shelves so great for your closet is that you can use them as open storage — for items like shoes, hats, bags, or appliances, or use their inserts. A KALLAX will accommodate a variety of IKEA baskets like the wicker BRANÄS, or the DRÖNA collapsible fabric boxes. Alternatively, the 13-inch fabric cubes from the dollar store will also work. If you want completely hidden storage for a dresser-type look, IKEA's pull-out drawer or cabinet door inserts are a good option. Mix and match inserts or use one type for a more unified look. Using dry-erase clip-on labels from Amazon will help you identify what's in your baskets saving you the time and trouble of having to rummage through each cubby. This will also help keep your storage closet clean when the kids are looking for something.