The Genius Storage Method That Dries Your Dishes At The Same Time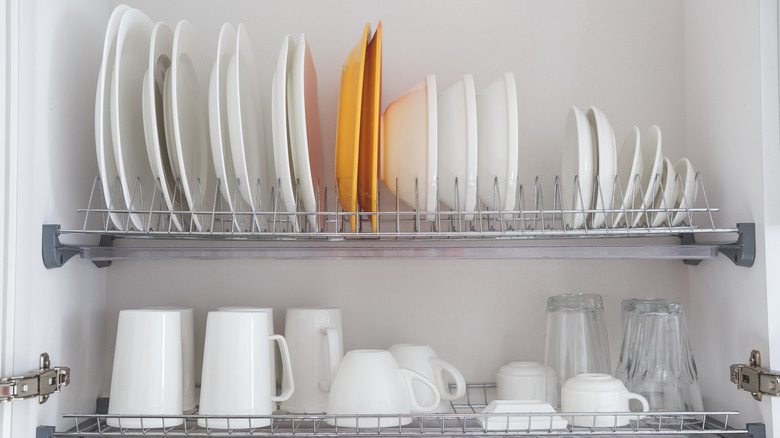 Vladdeep/Getty Images
Kitchen space is always at a premium, and we love any technique that frees up more space for cute dishes and useful appliances. One super-handy dish storage and drying method comes from the Nordic region: in Finland, kitchens commonly include a dish drying cabinet or astiankuivauskaappi. This super-convenient design allows you to store and dry dishes at the same time.
Positioned directly over the sink, it looks like a regular cabinet on the outside. On the inside, though, it's filled with wire dish racks. Through the cabinet's open bottom, wet dishes can drip right into the sink. Other cabinet styles include removable trays to hold dripping water. Either way, it means no more hand drying and no more dish-drying racks taking up precious counter space. Of course, if you have a dishwasher, that already functions as a drying rack (and some even have a drying function). However, if you wash dishes by hand and don't have a big kitchen, this Finnish method can be a game-changer.
How to get your own Finnish dish rack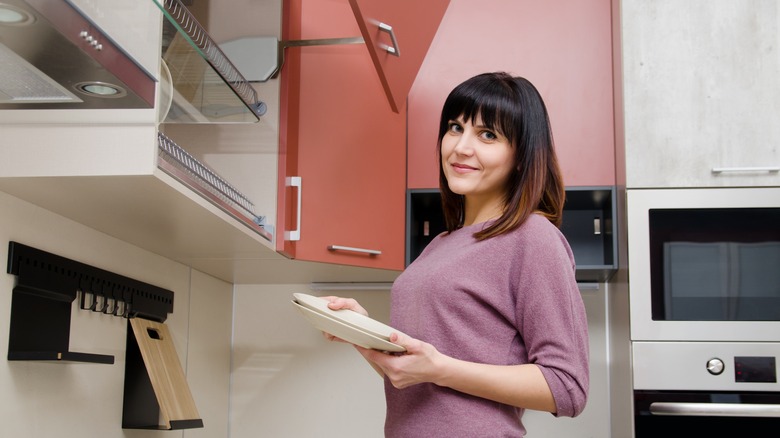 Oleg Chernyavsky/Shutterstock
Want to replicate this clever Nordic solution at home? You have a few options. First, you can look into building one yourself or having one built. If there's an existing cabinet over your sink, consider switching out the shelves and bottom for open wire racks. 
One brand, called DripDry, sells installation kits based on an Israeli dish rack design called the Almagov. As long as you have basic home DIY skills, one of their kits may be the right answer for your kitchen. You can also turn to the beloved Nordic brand IKEA: their UTRUSTA dish drainer is ready-made for installation in a wall cabinet. Unfortunately, though, it's only sold in Europe right now, so you may have to do some finagling to get one.
However, there are also plenty of over-the-counter (pun intended) solutions. The simplest is to add a drying rack over your sink. While it won't hold as much as a cabinet, installing it is as simple as setting it down. Outlets like Home Depot have options that'll suit just about any kitchen. IKEA also sells basic dish drainers that go over your sink, which you can buy in the U.S. Whether a custom-built cabinet or a straightforward drying rack, storing wet dishes over your sink can really transform your kitchen's space and efficacy. Thanks to this Finnish storage method, you can put damp dishes out of your mind and focus on enjoying your kitchen.