The 5 Best Fabric Shavers For Removing Unsightly Pilling And Lint From Clothes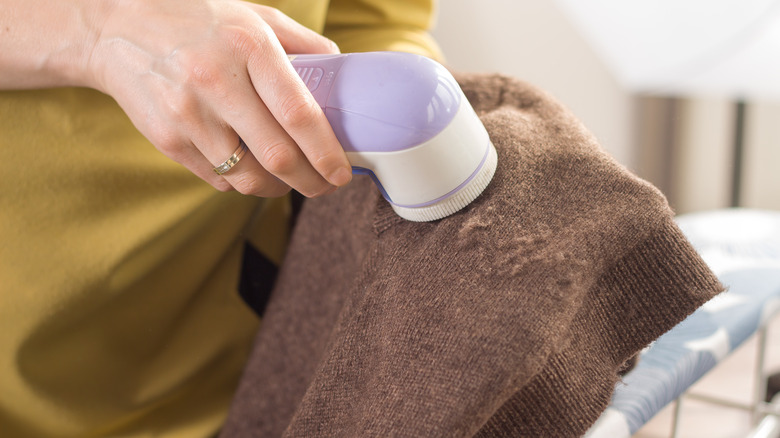 Tomasz Majchrowicz/Getty Images
We may receive a commission on purchases made from links.
Fabric shavers are a necessary part of any laundry room arsenal, especially if you want your older clothes to look like they came fresh from the store. It doesn't matter if you're a newbie in doing laundry or are a veteran who has been cleaning your entire family's hamper for decades, clothes still pill. Fabric shavers, however, can help you remove them in a pinch, making the pieces look new. They're one of the best ways to get rid of pilling with minimal effort, but not all shavers are created equally; some are more efficient than others. 
There are a number of factors to consider when deciding which fabric shaver is best for you. If you have a large number of sweaters that have a lot of pilling, for instance, the shaver you decide on will probably be different than if you only have a couple of pieces you plan to work on. 
Rather than wasting time going back and forth over the same sweater sleeve, it's best to choose a shaver that's not only economical but will get the job done in one pass. But it can be hard to tell which machine will get those results. To help you narrow it down, we have rounded up five of the best shavers on the market to get your knits looking pristine in no time.
How we selected products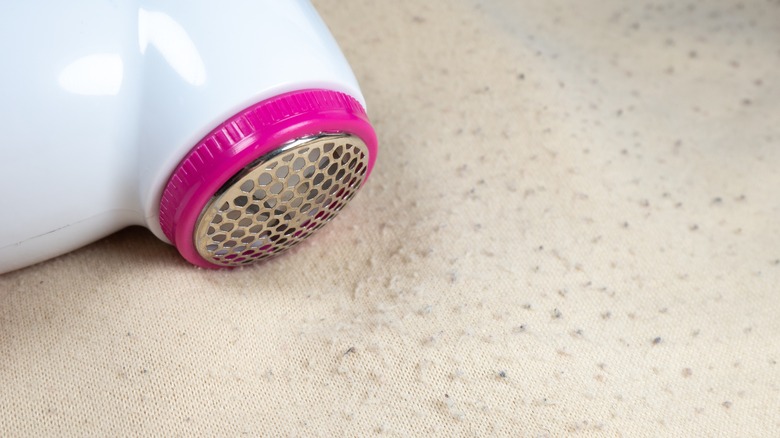 Only_NewPhoto/Shutterstock
When it came to selecting products, we looked at a broad range of brands and price points, selecting those that provided the best results at affordable prices. Along with quality and price, we also considered how different fabric shavers would address different needs. Rechargeable or manual? Small jobs or big jobs? We scoured reviews, seeing which brands and models gathered the most customer satisfaction. When looking at the reviews, we ensured that they weren't given in exchange for trying the product, and disqualified any product with bot reviews. We particularly took into account any of the "cons" mentioned, since those are given by honest customers who came across some product pain points. 
We automatically removed any product that received less than 4.4 stars and only looked at items that had 1,000+ authentic reviews. This ensured we only looked at the crème de la crème of shavers, narrowing it down to the best possible models. If you're looking for something that will efficiently remove pilling and that will last you years rather than months, here are our top recommendations. 
Best overall: Conair Fabric Shaver and Lint Remover
The crown jewel of shavers is the Conair Fabric Shaver and Lint Remover. This product has nearly an astounding 200 thousand reviews on Amazon and clocks in at 4.4 stars. It's battery-operated and is safe to use on all fabrics, from sweaters to sofas. It has a 2-inch head, allowing you to shave a decent amount of surface area with each pass. And most importantly, it has three depth settings, allowing you to customize how close to the fabric you want to get. If there is light pilling, for example, you can use the lightest setting as you don't necessarily need to cut down to the thread.
Purchase the Conair Fabric Shaver and Lint Remover on Amazon for $13.99 and at Target for $14.99.
Best rechargeable: Magictec Lint Remover
If a rechargeable option is more your speed, we found the best one to be the Magictec Lint Remover. This is a great item because you don't necessarily need to plug it into an outlet to charge it. Instead, it can get equally juiced by a laptop, power bank, and even a car charger (making it the perfect fabric shaver to keep in your car if your coat, scarf, or suit tends to pill). Two hours of charging gives you an hour of battery life, which is a lot when you consider you only use a fabric shaver for a minute or less. 
Purchase Magictec Lint Remover on Amazon for $13.99
Best for large surface areas: Vasson Fabric Shaver
Whether you have a huge stack of sweaters to de-pill or a weathered couch you need to give a facelift, you'll want to use something that offers a fair amount of coverage. Getting through such a project can take a while if you're only working with a 2-inch head. That's where the Vasson Fabric Shaver comes in. It has two heads instead of one, allowing you to cover double the surface area. It also boasts two large-size 6-leaf blades, whereas typical shavers have 3-leaf blades.
Purchase the Vasson Fabric Shaver on Vasson's website for $35.99
Best manual: Comfy Clothiers Comb
If you don't want to mess around with batteries or chargers, then you might be in the market for a manual shaver. The best one to try is the Comfy Clothiers Comb. This compact comb is made of cedar and has a row of super delicate teeth that gently remove pills and lint. It's originally designed for finer fabrics, such as cashmere and luxury wool, so it's safe enough to use on just about anything. 
It received 4.2 stars out of over 2,100 reviews on Amazon, with the only one notable downside being its size. It's about the size of one's palm, so removing lint from larger items, such as couches or coats, might be cumbersome.
Purchase Comfy Clothiers on Amazon for $9.99
Best heavy-duty: BEAUTURAL Sweater Fabric Shaver
If you're looking for the cleanest, closest fabric shave possible, then look no further than the BEAUTURAL Sweater Fabric Shaver. This handheld device is unique in that it has a 5-watt motor that reaches up to 9,000 RPM speed rotation, ensuring you get a close shave each time. This will cut back on the time you spend de-pilling since you won't have to go over the same spot multiple times. The reason this has such a powerful motor is because you plug it into an outlet when you use it (though it runs on battery as well if you need to take it on the go). 
Purchase BEAUTURAL Sweater Fabric Shaver on Amazon for $23.99