The 7 Best Infrared Heaters For Warming Up Any Space
We may receive a commission on purchases made from links.
Now that fall and winter are coming, it's time to start thinking about getting cozy. And one of the easiest ways to get a space warm and inviting is to make it toasty. You can light all the candles and set out all the blankets you want, but you'll never achieve true hygge if the room is cold. That's where infrared heaters come in. Rather than doubling up on socks and sweatshirts, you can raise the temperature in the room with a portable heater. But not all of them are created equally, and some are much better than others. 
Depending on your main criteria, some heaters are more energy efficient than others, while others are focused on heating larger spaces. Some are more aesthetically pleasing than others, while others are more utilitarian and budget-focused. There is something for everyone — the only trick is finding the best version of it. That's where we come in. We have rounded up the best infrared heaters on the market, ensuring you'll stay cozy and toasty all season long. See which one fits your home best below.
How we selected products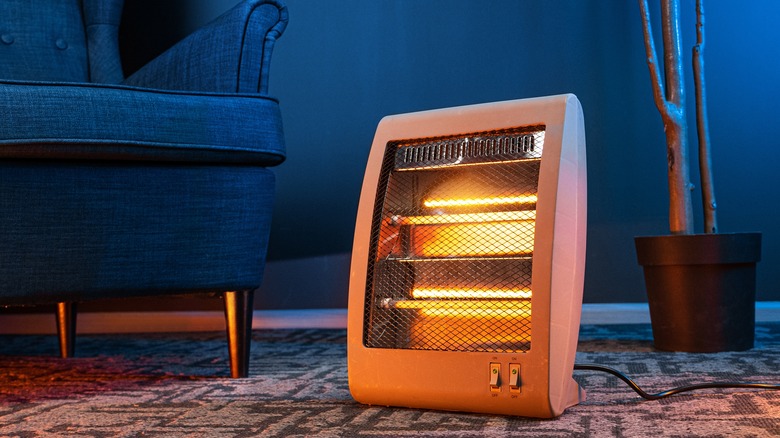 Hodoimg/Shutterstock
We followed certain criteria for our picks to ensure we have sussed out the best products on the market. First, we broke down the heaters into specific categories, keeping in mind what you might be looking for. Some folks want something aesthetically pleasing to blend in with their decor, while others want a budget-friendly pick that won't break the bank. And then others want something that is the creme de la creme of heaters that will last for at least a decade. We have ensured to cover all of those bases with our lineup. 
Next, we looked for products with a minimum of 4 stars and at least 50 reviews, though some clocked in with over 1,000 reviews. This ensures that these are forerunners in their categories and that enough people have tried them so there aren't any pain points to be made aware of. We also skipped over any paid-for reviews, especially if a product was given in exchange for a review. This ensures the rating isn't biased or skewed. Below is what was picked!
Best overall: Dr Infrared Heater DR998
The Dr Infrared Heater DR998 wins the "Best Overall" accolade thanks to its many bells and whistles. It has more features than most infrared heaters, though it still has an affordable price tag, clocking in at just under $150. It can heat 400 square feet, has over-heating protection, and can range from 50 to 85 degrees. The best part is that it also has a humidifier. You can run the humidifier separately or with the heating option, and you can also run a fan. It's packed with features without demanding a luxury price. 
Purchase the Dr Infrared Heater DR998 on Amazon for $136.51.
Best for large spaces: Heat Storm 1500-Watt Black Electric Logan Deluxe
If you have a large family room you want to heat but don't want to kick up the thermostat and warm the entire house, then the Heat Storm 1500-Watt Black Electric Logan Deluxe is your guy. That's because it can provide supplemental heating up to a whopping 1,000 square feet. This is thanks to its 1,500-watt infrared heater with a 5,200 BTU heat output. The built-in thermostat lets you see what temp the room is, and a remote control allows you to easily turn it up or down.
Purchase the Heat Storm 1500-Watt Black Electric Logan Deluxe at Home Depot for $139.99.
Best budget: Trustech Space Heater
If you want a space heater but don't want to drop good money for one, then you can't go wrong with the Trustech Space Heater. This clocks in at an affordable price, and while it might not be able to heat an entire room, it will keep you nice and toasty by the desk or on the couch. That's because it has a bevy of temperature options – it produces 750 watts on its "low" setting, 1,500 watts on its "high" setting, and even has a fan option you can use in the summer. It's small and compact, yet it can heat 200 square feet.
Purchase the Trustech Space Heater on Amazon for $27.99.
Best design: Duraflame 3D Black Infrared Electric Fireplace Stove
If you're looking for an infrared heater that doesn't look like a space heater, then look no further than the Duraflame 3D Black Infrared Electric Fireplace Stove. Rather than looking like a plastic space heater, it looks like an old-school cast iron stove. This will make it feel more like a fireplace than a gadget, adding an extra level of hygge to the room. You'll want to display it proudly all season long rather than tucking it away into a closet when you're not using it.
Purchase the Duraflame 3D Black Infrared Electric Fireplace Stove from Walmart for $115.59.
Best for outdoors: Haimmy Outdoor Electric Heater
Do you want to sit outside on your patio well throughout fall? Well, you can do just that with the Haimmy Outdoor Electric Heater. This compact infrared space heater pumps out 1,500 watts of heat, making your patio or deck nice and cozy. It has nine heat settings, allowing you to choose the most appropriate one for the evening. It is also water resistant, so it won't automatically break if caught in a drizzle, and it is 42 inches high, warming you from head to toe while outside.
Purchase the Haimmy Outdoor Electric Heater on Amazon for $249.99.
Best for small spaces: Black+Decker Indfrared Heater
This infrared space heater is great for small spaces, including dorms, bedrooms, offices, and RVs, and it's also very affordable compared to other models. From Black+Decker, this quartz tower heater features an adjustable thermostat that ranges between 750 watts and 1500 watts. In addition to being budget-friendly, the heater is also portable — weighing about 5 pounds. 
The Black+Decker Infrared Heater is available at Amazon for $56.78.
Best for energy efficiency: EdenPURE CopperSMART Infrared Heater
EdenPURE's infrared heater produces natural and comfortable heat that won't impact your home's air quality. Though it is the most expensive option in this collection, the remote-controlled space heater is something you must consider. It's built to last you a long time — up to 80,000 hours or about 10 years — and it's said to conduct heat better than most electric heaters. Its energy efficiency is one of its best selling points. The copper PTC technology distributes heat around the room, providing temperatures up to 90 degrees.
The EdenPURE CopperSMART Infrared Heater is available at Amazon for $447.