This IKEA Dresser Makeover Has A Clever Use For A Thrifted Belt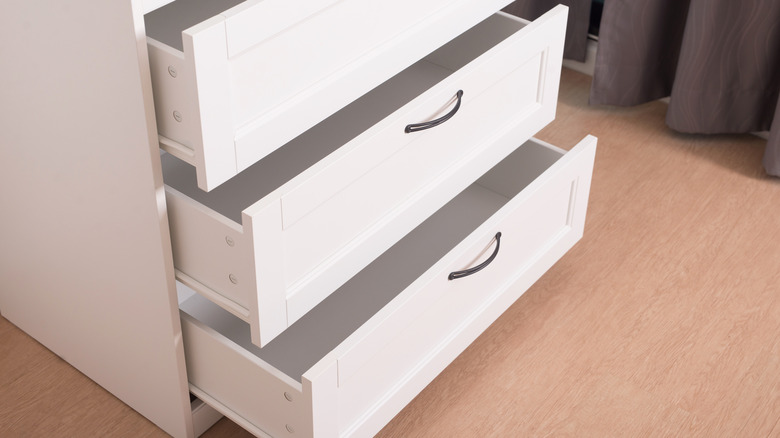 Z3pher/Shutterstock
If you're an avid fashion lover, then you may have a bunch of old belts stashed away somewhere. However, instead of throwing them out, one TikTok hack by @thediymommy shows how you could use them to give a stylish upgrade to your IKEA TARVA dresser (yes, you can use a belt!). Not only is this transformation incredibly eye-catching, but it's also perfect if you're on a tight budget, as you won't have to splurge your hard-earned cash on a high-end furniture piece. Even better, it will also allow you to upcycle an old belt — whether you already own it or pick up a cheap one from a thrift store — making it a win for both yourself and your furniture.
In fact, it's one of many stunning DIY IKEA hacks that can help to transform your space, so, if you're looking for a piece with that "wow-factor," then this could be the hack for you. Thankfully, you don't need to be a DIY genie to recreate this stunning dresser for yourself. All you'll need are a few simple items, and you should be ready to go. So, how exactly do you use an old belt to give your dresser a makeover? Let's find out.
IKEA TARVA dresser belt hack
To make this upgraded dresser, all you'll need is an IKEA TARVA piece, scissors, brass bolts, and then a belt and the paint or stain color of your choice. It's also important to note that you can really do this hack on any IKEA dresser — the TARVA is just the one we're looking to as an example.  
First, paint all the pieces in your chosen color and leave them to dry overnight. In the meantime, while you wait, you can begin to snip off sections of your belt, ensuring that each portion is large enough to fold back around on itself to create an opening for your fingers. This is what will make the "handle," and they will be the main focal point of the whole design, so take your time to ensure you measure them correctly. Likewise, you also need to make sure you create enough so you have one for each handle on your drawer. Now, all you need to do is finish off the look by nailing them in and rebuilding the dresser. 
The reason why this hack works so well is because the belt acts as a handle, helping you to pull out the drawers, alongside giving off a striking rustic look. Without them, the drawers may come off as more plain. Of course, there is some room for creative freedom with this DIY — you could even mix and match belts if you want to.