WD-40 Makes Removing A Stuck Paint Can Lid Easier Than Ever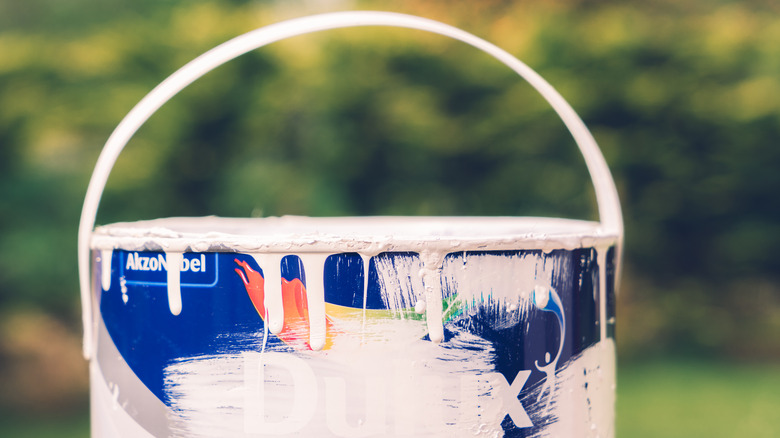 Three Sixty Images/Shutterstock
As a DIY interior wall painter, you probably know there's a lot to research, prep, and keep top of mind. And once you get going and your painting project is underway, it's important to stay mindful of the time. Paint dries pretty quickly, so you want to work relatively rapidly to create a seamless finish, get rid of brushstrokes, finalize a second coat, and then go out to lunch while it dries. When you're in a hurry, it's possible you secure the lid back on the can while it's sopping wet with paint. Then, the next time you want to use it, it's stuck tight, which is super frustrating. But not to worry, because WD-40 will come to the rescue. 
It's a useful lubricant to gently loosen the lid, and it can protect hardware and other surfaces to keep your home mess-free while painting. Please note that you're advised not to use WD-40 with water-based (latex) paints, but you can — and should — use it to pry open the lids of willfully stubborn oil-based paints. This hack will reduce the typical irritations that can come with DIY paint projects.
How exactly to use this WD-40 trick
What you'll need is a can of WD-40 and the little red nozzle it comes with to be able to successfully control the very small amount you'll use. You might want to place a rag or newspaper underneath the paint can to catch potential drips and protect your floor or carpet. Even when you're really careful, painting understandably creates drippy messes, so have some paper towels nearby. A flathead screwdriver is the perfect tool to help you disengage the lid from the can.
After giving the WD-40 a good shake, position the nozzle at the edge of the paint lid's rim, give it a spritz all the way around, then let it rest for five minutes. After the solvent has done its loosening work, use the flathead to pry up the lid. As an extra step, we recommend grabbing those paper towels and carefully soaking up WD-40 from the edge and rim of the paint can and lid; you don't want any product dripping into the paint. To prevent future issues, you can keep your paint can lid from sticking by covering the can with clean plastic wrap before you hammer the lid back in place.