HGTV's Hilary Farr Shares The Countertop Material You Can Rely On For Durability & Looks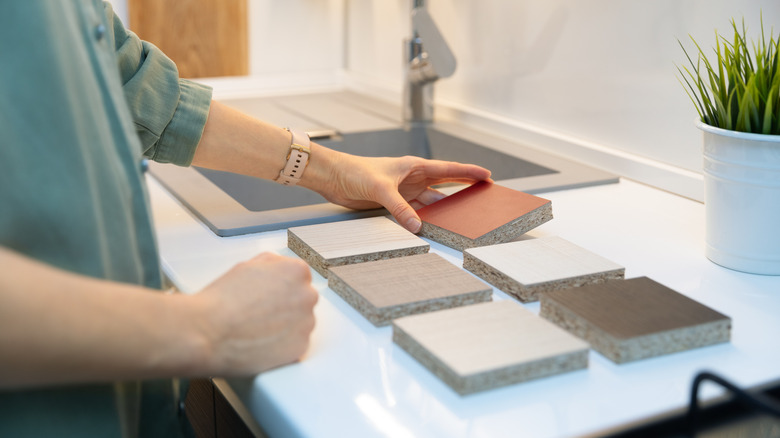 Ronstik/Getty Images
While this countertop material might not be everyone's choice, it's a classic option that HGTV star Hilary Farr says you'll never find yourself regretting. The "Love it or List" co-host says that quartz is a long-lasting, and quite beautiful, choice for your kitchen or bathroom. On an episode of "Tough Love with Hilary Farr," she confidently told a client, "I believe that you need quartz," showing the couple a gleaming white slab, "Here is a sparkly one, isn't that fun? It's got that lovely blingy thing happening. I love using that for the bathroom countertops because it's very durable."
Quartz countertops have become a favorite of designers like Farr for their aesthetics and low maintenance requirements. It's preferred by homeowners who are looking to remodel. One study by Houzz found that 42% of people wanted engineered quartz countertops for their kitchen renovation. Quartz even beat out granite, which ranked with 34% of homeowners, as a countertop favorite. Quartz countertops beat out other options because they are crafted in a wide range of shades, allowing you to find the perfect hue that complements your overall design scheme. They can also be made to look like marble or stone. And, as Hilary Farr reminded us, let's not forget that sparkle! These reflections of light help to give off a clean appearance in your kitchens and bathrooms.
Why quartz make the best kitchen countertops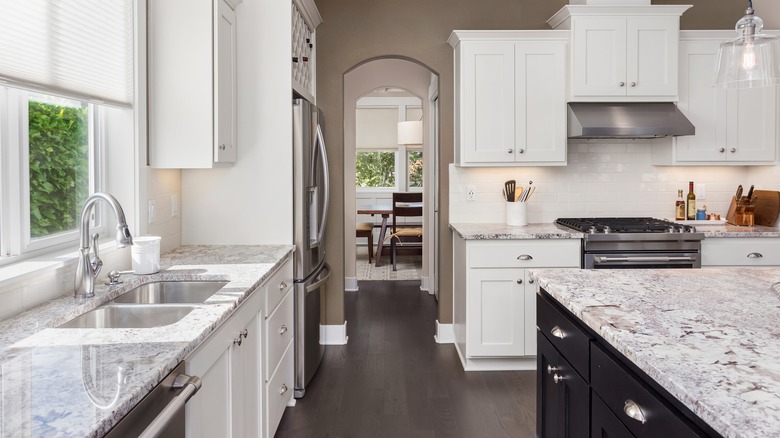 BM_27/Shutterstock
Quartz countertops are visually appealing and offer a high-end and upscale appearance. Unlike natural stone, which can vary in color and veining from slab to slab, manufactured quartz surfaces utilize advanced manufacturing technology to create products with consistent quality, performance, and aesthetics creating an even look and tone. One of the primary advantages of quartz countertops is their exceptional durability. It's harder than granite, and it's pretty hard to damage. Quartz countertops are highly resistant to scratches, chips, and cracks, making them perfect for high-traffic areas like kitchens and bathrooms. Since it's non-porous, quartz also has excellent resistance to stains, mold, water damage, and bacteria, making it a highly hygienic choice. You can rest assured that your quartz countertops will withstand the test of time without compromising on cleanliness.
Unlike natural stone countertops such as marble and granite, which require regular sealing and specialized cleaners, quartz countertops are easy to clean and care for. They never need sealing and can be wiped down with a non-abrasive cleaner. This convenience saves you time and effort in maintaining the beauty and functionality of your countertops, allowing you to enjoy their benefits without the hassle of extensive upkeep.