White Hydrangea Varieties You'll Dream To Have In Your Garden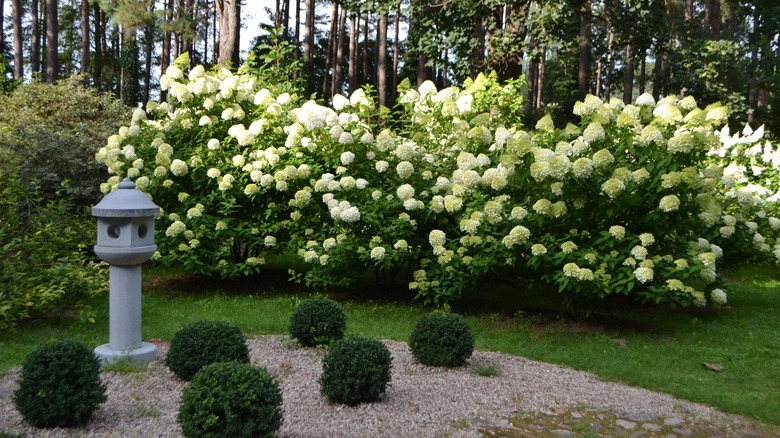 Edita Medeina/Shutterstock
There are over 70 species of hydrangeas. The flowerheads of this variety range from vibrant blues to bright pinks, but nothing beats the classic crispness of white petals. This simple shade is far from boring, especially when it blossoms in various shapes and sizes. Additionally, this white flower will match any aesthetic, indoors and out. So avoid the mistakes everyone makes when planting hydrangeas and pick the ideal white blossoms for your space.
There are five common hydrangea families — bigleaf (Hydrangea macrophylla), panicle (Hydrangea paniculata), smooth (Hydrangea arborescens), oakleaf (Hydrangea quercifolia), and climbing (Hydrangea petiolaris). These five are the basis for several distinct varieties that have different growing conditions and foliage. However, all embody the soft beauty of this beloved plant. We've listed 15 white varieties that are must-haves for hydrangea lovers, and we've included types in each of the five families. Whether you're new to the gardening scene or have years of planting under your belt, there is a white hydrangea variety that would be perfect for your yard.
1. Hayes starburst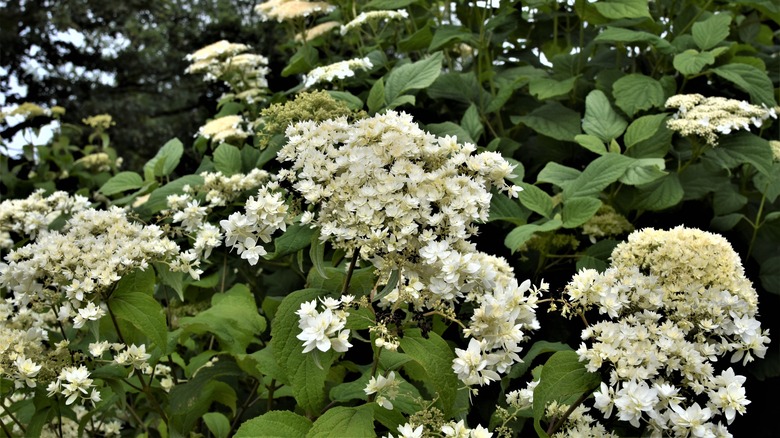 Ritvars/Shutterstock
The hayes starburst is a smooth hydrangea variety. This species is best suited for USDA hardiness zones 4 to 8, and it grows in partial shade with well-drained soil. It can also withstand dry and rocky ground. From June to September, the white flowers, which also have some hints of green, are on display. This deciduous shrub can grow up to 4 feet tall and span the same size. It is a stellar variety for spicing up the hedges around your yard. 
2. Incrediball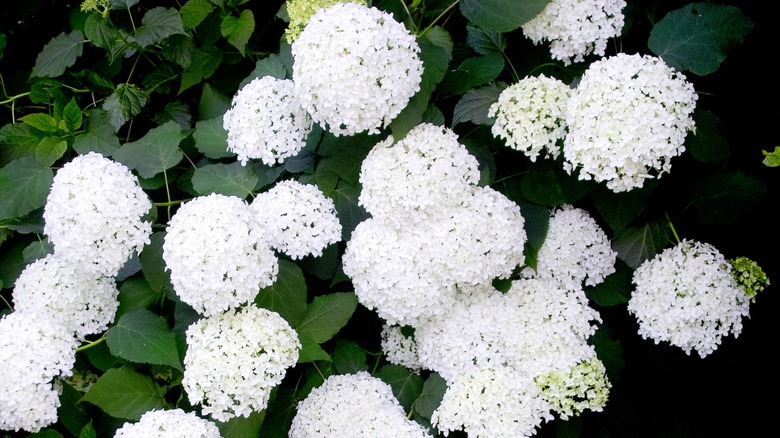 Ole Schoener/Shutterstock
Another show-stopping smooth hydrangea variety is incrediball. The flowers create a spherical bouquet, hence the name. Mid-summer signals when these white petals will bloom, and the flowers will last all through the season. They grow best in hardiness zones 3 to 8. As long as it receives six hours of direct sunlight and well-drained soil, this deciduous shrub can reach up to 5 feet tall.
3. Snow queen
The snow queen is a type of oakleaf hydrangea. Sprouting up to 8 inches from the green foliage are white cone-shaped clusters. The bright petals blossom in the summer and take on a pink hue come autumn. Plant them in hardiness zones 5 to 9 with partial sun and protect them from the afternoon heat. The snow queen prefers rich, well-drained soil and water whenever the top 2 inches of topsoil are dry.
4. Munchkin
Another beauty in the oakleaf family is the munchkin hydrangea. Like its sibling, it does best in hardiness zones 5 to 9. It is one of the smaller hydrangeas, as the name suggests. This deciduous shrub spans under 5 feet, and its white petals bloom by June, aging to pink by the season's end. Your munchkin plant needs full sun to partial shade and rich soil.
5. Gatsby moon
Gatsby moon hydrangeas are high on the decorative scale. This oakleaf variety is grand, towering 8 feet in both height and width. Its white flowers grow in tight clusters. Plant this hydrangea in moist, well-drained soil and give it at least six hours of direct sunlight. Then, watch the petals spring in the summer and turn green as time goes on. USDA zones 5 to 9 are best for this oakleaf species.
6. Chantilly lace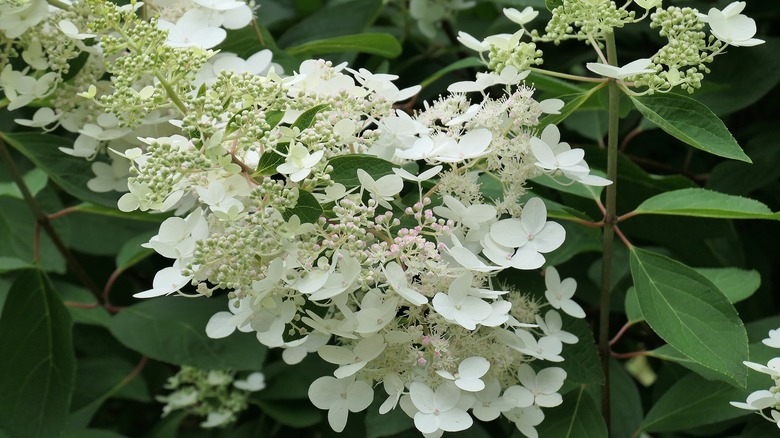 Joe Kuis/Shutterstock
The chantilly lace comes from the panicle variety of hydrangeas. This plant prefers nutrient-rich soil. It can flourish in urban conditions, making this hydrangea perfect for rooftop gardens and balconies. Partial to full sun is the best lighting for your chantilly lace. Within USDA zones 3 to 8, you can expect the blossoms to be on display from July to September. Sometimes, the flowers are so grand they tilt downward due to their weight.
7. White diamonds
If diamonds are a girl's best friend, then white diamonds hydrangeas are everybody's bestie. This panicle variety is ideal for beginner gardeners, as it is easy to grow, drought-tolerant, and adaptive. This shrub reaches 6 feet high and 5 feet wide and is sprinkled with white flowers. Garden zones 3 to 8 get the pleasure of harvesting these beauties. All it needs is partial sun and moist soil.
8. Blushing bride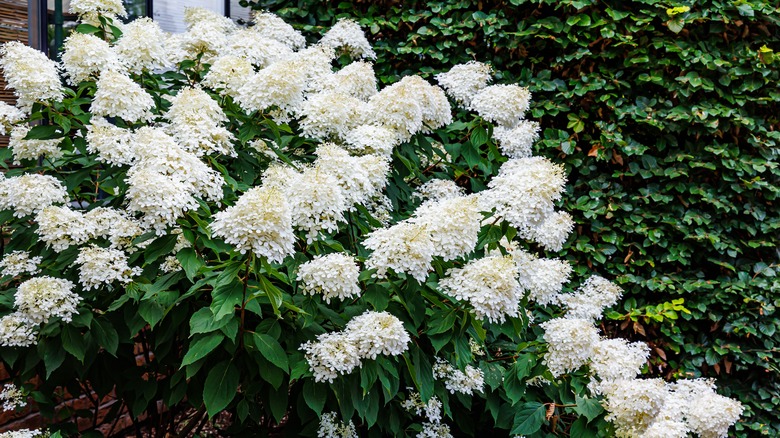 nnattalli/Shutterstock
It's no surprise that the blushing bride is a favorite for wedding bouquets and centerpieces. This variety is a part of the bigleaf hydrangea family. It has a long bloom season with snowballs of white flowers. However, this gorgeous plant is toxic to cats, dogs, and horses. Your blushing bride thrives in hardiness zones 5 to 9 and likes rich, nutrient-dense soil, along with partial shade.
9. Wedding gown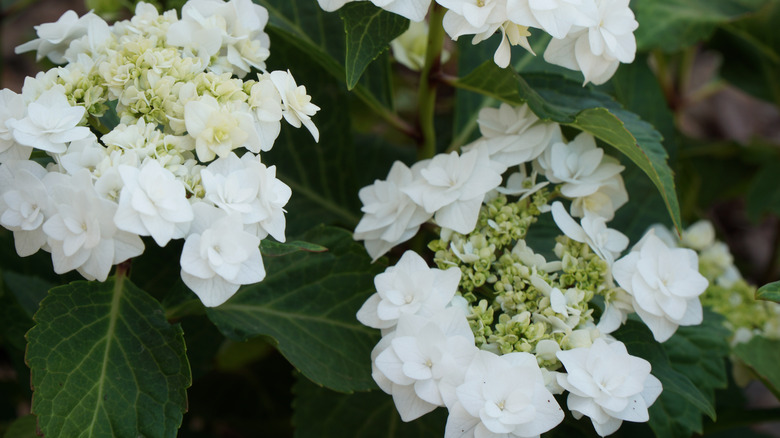 Stacy O/Shutterstock
If you're shopping for a small hydrangea that will make a whopping impact, look no further. The wedding gown variety is part of the bigleaf family and only grows up to 3 feet tall yet flowers with numerous white crowns. It is hardy in zones 5 to 10 and prefers light shade with nutrient-rich soil. Beware, this hydrangea species is poisonous to people and animals if consumed, so it is best kept away from children and pets.
10. Veitchii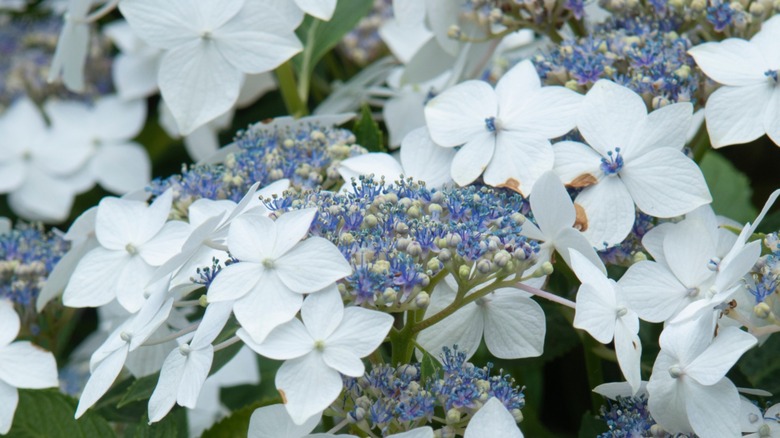 InfoFlowersPlants/Shutterstock
White petals with clusters of colorful buds between are what you'll get with veitchii hydrangeas, also part of the bigleaf family. This shrub can shoot up to 5 feet tall and 10 feet wide, so it will be an attention-grabber in any garden. USDA zones 6 to 9 are best for this variety. Give it light shade and moist, well-drained soil for the best results. You'll know it's healthy if the blooms arrive in mid-May.
11. White climbing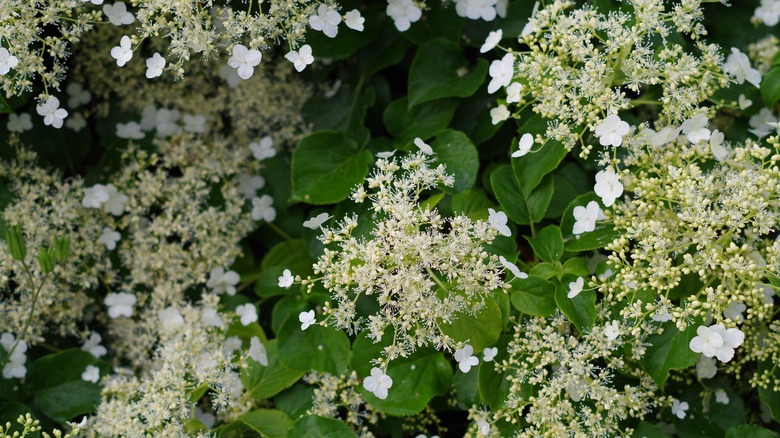 shadesofquartz/Shutterstock
The white climbing hydrangea is perfect for those who are new to gardening, as it is an adaptable plant. The foliage will thrive in full sun or full shade, it just needs moist, well-drained soil. This vine travels up fences and can climb over 50 feet high. It is hardy in zones 4 to 9. On the downside, the lace-cap white flowers won't show until after a few seasons.
12. Invincibelle wee white
The invincibelle wee white is tiny but mighty. It is the world's first miniature smooth hydrangea. This type only reaches about 2 ½ feet tall, so it is an excellent option for an indoor hydrangea to grow and care for. It is recommended for hardiness zones 3 to 8. This low-maintenance deciduous blooms for a long time, so you can enjoy months of white flowers.
13. White dome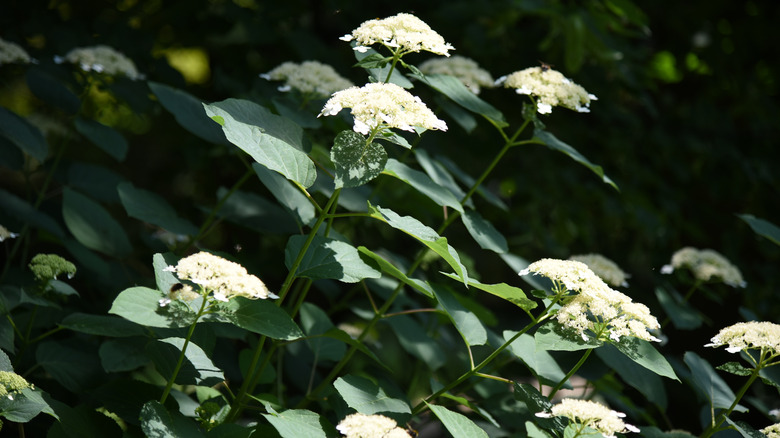 photoPOU/Shutterstock
The white dome is an easy-to-grow smooth hydrangea variety that's hardy in zones 4 to 9. It needs partial shade but doesn't mind full sun with the proper hydration. This deciduous shrub is low maintenance, as it can tolerate either dry or wet soil. However, don't skimp on the water, since it is not drought-resistant. Treated right, it can blossom 5 feet tall and spread up to 4 feet wide.
14. Great star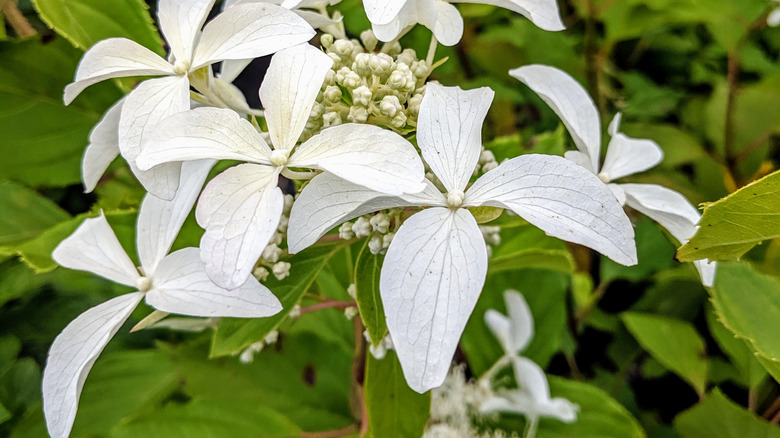 VladimirShnip/Shutterstock
Another member from the panicle hydrangea gene to make the list is the great star. A bundle of its white flowers rival stars in the night sky. This variety grows best in hardiness zones 3 to 8. It can tolerate air pollution, making it suitable for city dwellers. With rich, well-drained soil and full sun to partial shade, the star-shaped flora should have blooms from July to September.
15. Brussels lace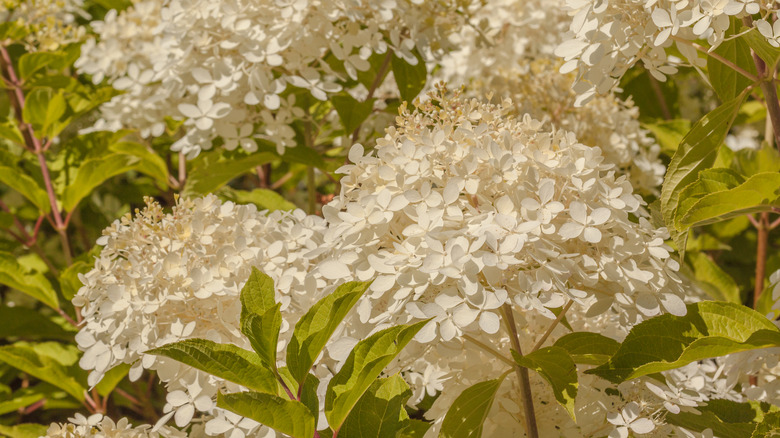 Sarycheva Olesia/Shutterstock
Last but not least is the brussels lace from the panicle hydrangea family. Its green foliage and white flowers that turn pink attract butterflies for a beauty bonus in your garden. Plus, this plant is insect and disease-resistant. Hardiness zones 4 to 9 are where it thrives, spanning 6 feet upward and 5 feet across. The brussels lace needs full sun to light shade and moist soil for healthy growth.