Bring An Old Cutting Board Back To Life With Martha Stewart's Genius Trick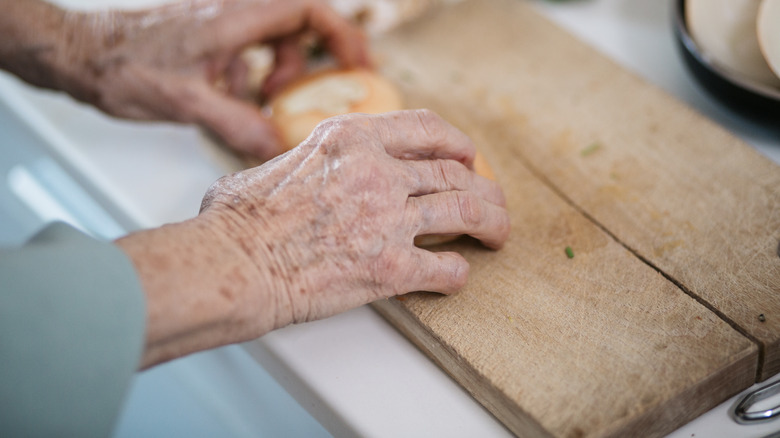 Ivan Pantic/Getty Images
Wooden cutting boards work beautifully, last between five and 10 years with proper care, and can blend into any decor, whether you live in a rustic cottage or a hyper-modern pod. Sometimes, they do get stained by red wine and spices like turmeric, and they can smell from cutting onions, but there are fixes for all that. Martha Stewart is the queen of organizational kitchen tips, and she has a genius trick to restore life to an old cutting board. Her advice is to give it a thorough once-over, first with lemon, then with salt and more lemon, as she demonstrated on the Today Show.
One of the most important restorative benefits of using a lemon and salt scrub is its deodorizing power. Freeing your board from a strong ginger or garlic smell means it's easier to use it later with any other foods. The other equally important benefit is that lemon is a stain-lifter that's all-natural and compostable. This method also keeps chemicals off your board and away from your food, keeping you healthier.
The genius trick to bring a cutting board back to life
For this tip, all you need is a lemon, a knife to cut it, and a healthy amount of kosher or sea salt. You might wear your latex or rubber kitchen gloves to protect your hands, too. On your cleaned cutting board (rinse it off if you've just been cutting food on it), halve the lemon and rub the cut side across the board's surface. Sprinkle a generous amount of coarse salt onto the surface and "exfoliate" the entire surface using the lemon. This slightly abrasive cleaning action lifts stains and odors.
If the lemon-salt exfoliation isn't quite enough to lift a set-in stain, another stain removal tip Martha Stewart recommends is to take a piece of sandpaper, sand the cutting side, wash off all the wood dust, and then saturate your board with mineral oil. Clean your wooden cutting board with soap and water as a best practice in between uses as well.