The Important Thing Christina Hall Wants You To Consider When Designing A Room With A Fireplace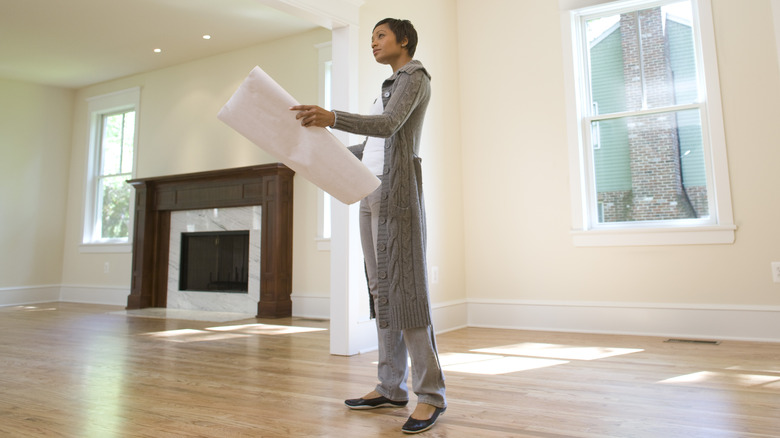 David Sacks/Getty Images
Golden dancing flames can be a fascinating, ever-changing focal point, and that's why including a fireplace in the living room is a common choice. Adding a fireplace to your home will provide you with a heat source in cooler months as well as a place to relax. Further, this design feature could possibly increase the value of your home by up to 12%. As a symbolic spot for group storytelling, it deserves a central focus. Acknowledging this, design tip guru Christina Hall reminds us that positioning is key (via YouTube). If you're designing your new home or planning a major renovation, consider featuring your fireplace in a central location and not off to the side.
In Season 2, Episode 12 of "Christina on the Coast," Hall was called in to redesign significant sections of a home after friends experienced major damage from a flood. Because the original design had a peculiar off-center fireplace in an oversized living room, the renovation provided an unusual opportunity to go back to the drawing board. Addressing her friends during the design stage, Hall says, "Personally, it always bothered me that the fireplace was off-center. Because the fireplace was so big ... there was no way to position your TV correctly. I felt like it was just kind of awkward." That's why she decided to place it in the middle of the wall instead of closer to one corner.
Considerations when designing a central fireplace
An off-center fireplace can look like an even bigger mistake if the size is wrong. Therefore, as you navigate the design process, another smart way to make a centrally-positioned fireplace shine is to also take the room's proportions into account. The more spacious the room, the larger or wider the fireplace can be, and the inverse is true. A huge room with a disproportionately-small fireplace makes it look like an afterthought, while a smaller space with an oversized hearth quickly feels cramped. When it comes to sizing and central placement, you probably have more latitude than you think. Because there are different types of gas and electric fireplaces that don't require the construction of a traditional chimney, you can put your unit right where you want it.
The beautiful symmetry of a centered fireplace makes the arrangement of furniture pretty easy. As displayed in Christina Hall's arrangement above after the remodel, you could place the TV above the fireplace, include two identical couches facing one another, and add armchairs for additional seating. However, we also recommend breaking up the space in interesting ways and leaving room for the unexpected. Don't stay overly loyal to the fireplace's symmetry by positioning everything else around it with the squared-off precision of soldiers on duty. This would create an uninteresting, overly-controlled vibe instead of encouraging warmth and connection.