TikTok Shows Us How To Make An Elevated Cat Bowl Perfect For Halloween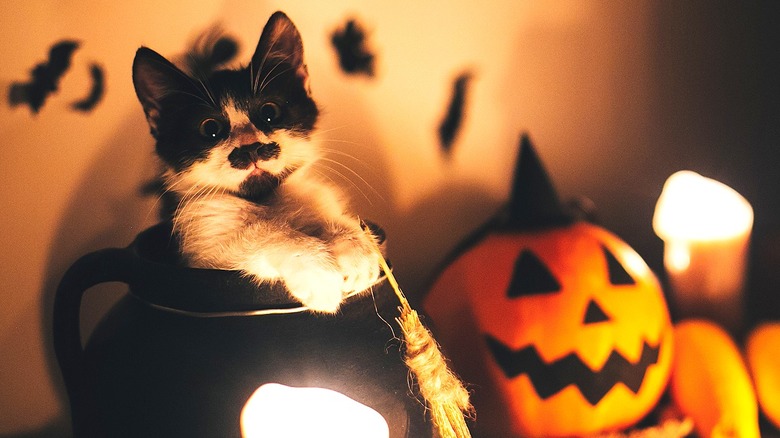 Bogdan Kurylo/Getty Images
If you're the kind of person who loves to create cheap and easy DIY Halloween decorations, and you also have a cat or two at home, then we have the perfect craft project for you. It's also an ideal seasonal solution if you want to keep your pet's food bowls clean. If your interest is piqued, then you'll surely be thrilled to learn we're talking about super-cute elevated Halloween-themed cat bowls.
In a timely TikTok, TikToker Nesquik (aka @wtfnessaxo) demonstrated how she turned a bowl and candleholder from Hobby Lobby into a raised cat bowl for Halloween — all for about $15. She "duets" her tutorial with one from @Holly & Milkshake, who tackled the same project. The side-by-side starts with both creators finding adorable pumpkin-shaped ceramic dishes that are safe to eat from, and not just decorative. You could also opt for a bowl that's shaped like a ghost, of course, a witch's hat, or a black cat (which would certainly suit the situation).
Beyond the dish, you just need a few more items: the aforementioned candleholder or other type of base to elevate the bowl, some adhesive, and some optional fine-grit sandpaper (more on that later). In the TikTok, Nesquik also mentions a few things she would've done differently the next time. Each tip is just as valuable as the last and all will help you end up with the perfect raised cat bowl, in time for Halloween.
DIY-ing a Halloween bowl for your cat
Once you've gathered the items you'll need to DIY your very own elevated Halloween bowl — or rather, one for your cat (or cats) — as explained by TikToker Nesquik, start by removing any tags or stickers from the candleholder (or whatever you chose for your base) and dish/bowl. Next, use the sandpaper to remove any gloss from the bottom of the bowl and from the top of the holder without harming the finish. This is one step that Nesquik failed to do but noted she would if her creation fell apart.
When the pieces are prepped, add a good amount of adhesive to the areas where the dish and the base will connect. Although Nesquik didn't want to use too much of the glue because she feared getting it on her fingers, you can add as much as needed while being sure not to make any contact with your skin. Do this by wearing gloves and removing excess adhesive with a cotton swab, which you should immediately throw away.
Finally, attach the pieces together and leave them to dry. You may want to put something heavy on top to make sure they really adhere. When you're done, give it a bit of a wash and add some pet food for your hungry cat to enjoy — especially on Halloween.