The Best Types Of Flooring For Your Outdoor Kitchen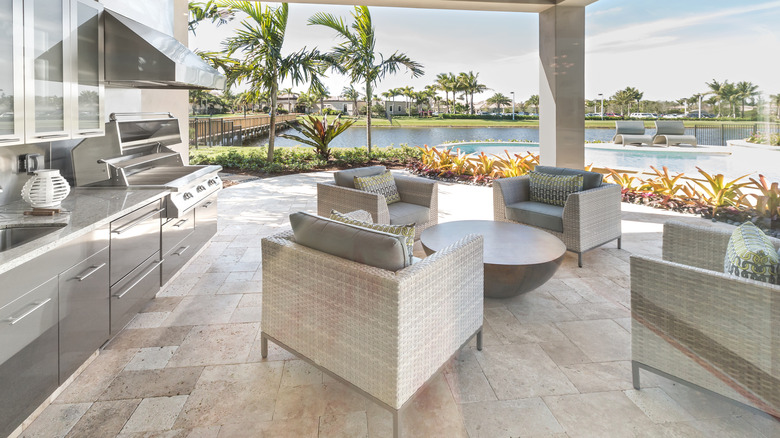 Jodijacobson/Getty Images
Extending your liveable square footage outside your home is sure to make your living space more enjoyable. Turn your backyard into an extension of the inside of your home and you'll have the perfect place to entertain friends and family as well as enjoy the fresh air yourself. Building an outdoor kitchen will turn your standard patio into an entertainment haven. But before you fill an outdoor kitchen with a pizza oven and wine fridge, you have to have a good base, which begins with choosing the right flooring material.
When considering flooring for an outdoor kitchen, you want to look for durable materials. Because this flooring will be outdoors, this material has to hold up to temperature changes and weather, along with the foot traffic that comes when using the kitchen. Similarly, you want easy maintenance and cleanup in case you ever drop food or drink on the ground. If something does spill, you want to ensure that it won't leave stains in order to maintain the aesthetic appeal of your patio. This often means considering the porosity of the material and what kind of sealing is necessary to maintain it. There are six main materials that have the durability, maintenance requirements, and aesthetic appeal that's required for an outdoor space. 
Concrete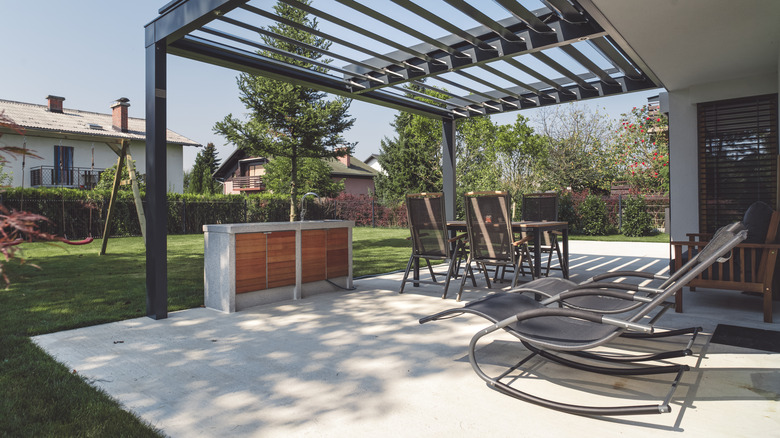 Ziga Plahutar/Getty Images
Concrete is a go-to exterior flooring choice for many homeowners, as it's versatile, sturdy, and inexpensive. Concrete allows for a variety of aesthetic options, whether that's molding the concrete into shapes, stamping designs in it, or coloring it with dyes or stains. Though it's budget-friendly and can easily match your aesthetic, concrete does require a lot of maintenance and may need to be sealed to prevent it from becoming stained. Unfortunately, though it can take years for this to occur, it's also nearly inevitable that this material will crack even with the best construction and installation.
Natural stone tiles
Natural stone floor tiles are favored because they're durable enough for the outdoors. This material can easily hold up to outdoor elements such as sun, wind, and rain. However, some natural stones are better than others for an outdoor space. Granite is one of the better options because it is resistant to moisture and available in a variety of colors. Materials like marble and limestone will need sealing to keep moisture out. Also, keep in mind how the stone conducts temperature. Flagstone can become hot in direct sunlight, making it uncomfortable to walk barefoot on summer days.
Brick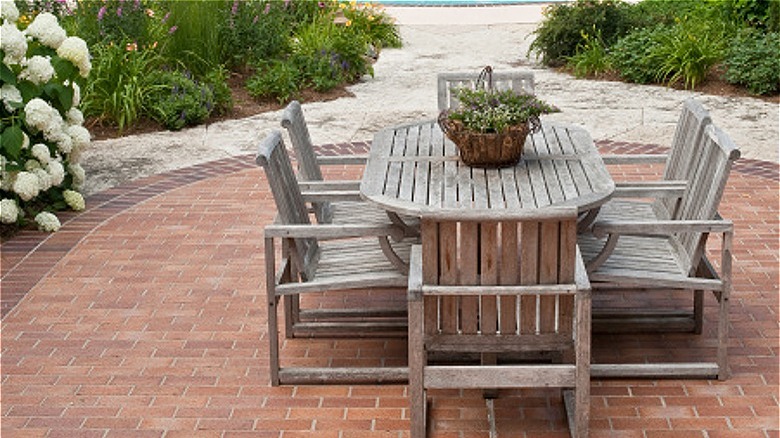 Timabramowitz/Getty
Durable and affordable, brick is a great option for most backyards. Using brick pavers gives different aesthetic options by laying them in various layouts. Brick is also durable, which means it can withstand the weight of outdoor kitchen appliances. This material also doesn't get slippery, which makes it ideal for outdoor spaces that aren't covered. As with other porous materials, brick requires sealing to keep it from staining or from trapping moisture that could create mold and mildew. Additionally, it isn't the most comfortable to stand on, so you may need to add softness with a rug.
Gravel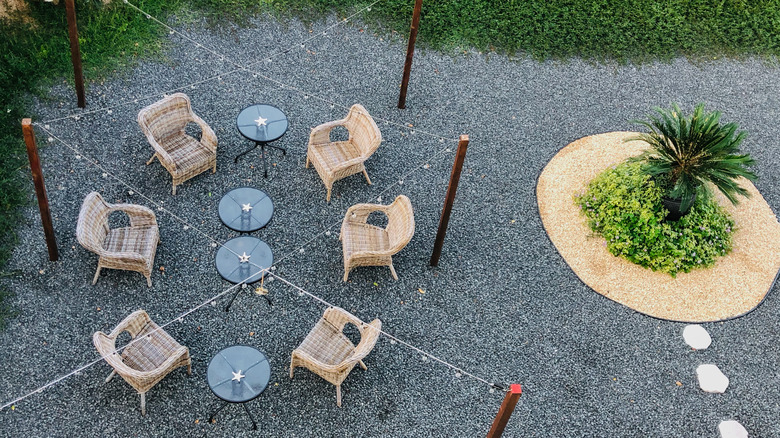 Gcshutter/Getty Images
Gravel may not be the first material people think of when it comes to their outdoor space, but it's another good option for flooring on a budget. Gravel is one of the cheapest options, though the material has more drawbacks compared to others. Compared to tiles, gravel is difficult to clean, and plants can grow between the individual rocks. It also doesn't provide the most stable surface for outdoor kitchen appliances. Because of this, gravel is best combined with other materials, at least to provide a more stable base for the kitchen.
Porcelain
For an outdoor space, porcelain is a great choice because of the variety of aesthetics it can work with. Porcelain is also durable with low water absorption, so it will work well against the elements. However, you want to be sure you choose a porcelain tile that's made for the outdoors. These don't have the glossy finish that interior tiles have but rather a textured surface that prevents them from becoming slippery when wet. Further, this material can be more expensive than other options, so only those with a larger budget may be able to use it.
Wood or composite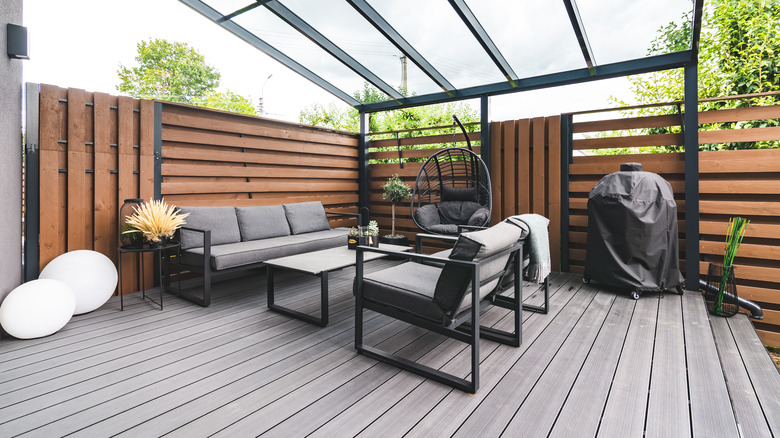 Itchysan/Getty Images
Decking materials are popular options for outdoor spaces. Made from either natural wood or composite materials, decking adds warmth and texture to your kitchen. You will be able to stain or paint the deck any color you choose to fit your overall design best, and this material is strong enough to withstand the weight of an outdoor kitchen. When constructed correctly, it can elevate a classic decor style. However, wood is more expensive and requires more maintenance than other materials. Natural wood also rots over time, which means having to replace or repair parts of your deck.