This Simple Upgrade Transforms The IKEA MOPPE Organizer Into A Gorgeous Piece Of Furniture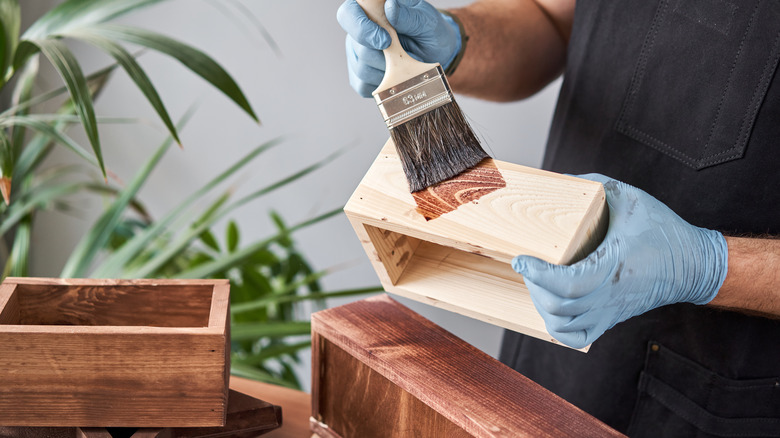 Fusionstudio/Shutterstock
We may receive a commission on purchases made from links.
Finding the perfect storage furniture for your living space can be challenging, especially if you have a unique style. However, if you have a love for DIY projects, there's always a way to reimagine basic pieces into gorgeous furniture. One classic upgrade idea originates with several IKEA MOPPE organizers. These drawer sets don't look like anything special, but with some wood stain and new hardware, you can transform them into a dreamy apothecary cabinet. All you'll need is a wood stain, drawer pulls, and wood glue.
The IKEA MOPPE organizer, available for about $30, is a mini tabletop chest that measures around 16.5 inches wide and 12.5 inches tall. If you need a set of drawers that small, you can do this project with just one organizer, but if you're looking for a larger set of drawers, you can buy several MOPPE organizers. For instance, @doitonadimeofficial on TikTok uses nine MOPPE organizers to construct a large storage piece for their entryway. If you plan on using multiple organizers, use a product such as the Gorilla Ultimate Waterproof Wood Glue to attach them together. You'll also need to get drawer pulls and a wood stain in any color you desire to finish this project. Since the MOPPE organizer is conveniently made out of untreated wood, you can use any simple stain to spruce it up. For the apothecary aesthetic, use small metal handles like the Weichuan Antique Bronze Apothecary Drawer Pulls, which will give the perfect finishing touch to the project.
How to upgrade the IKEA MOPPE organizer
Start by preparing your workspace. Because you'll be using a wood stain, you might want to lay out an old sheet or newspapers to protect the floor or table you're working on. Once you have the drawers and frame laid out in front of you, begin applying the wood stain. Luckily, the IKEA MOPPE organizers come untreated, so you won't need to remove any layers before going in with your stain of choice. If you're only working with one or two MOPPE organizers, consider a product like the Varathane Less Mess Wood Stain and Applicator, which has a large sponge tip for easy application. Otherwise, if you plan on going through a lot of wood stain, get a can of something like the Varathane Premium Gel Stain and use a brush to apply it. When choosing the right color, you could either match other furniture pieces or mix the wood stains in the room.
After the drawers are stained and dried, install the new hardware pulls. Note that these drawers don't have any pre-existing hardware, so you'll have to create holes for screwing in the pulls. The wood is relatively thin, so this shouldn't be an issue. With the drawer pulls installed, all you need to do is arrange your new organizers. If you're stacking multiple MOPPE organizers, use your wood glue to secure them together on both the sides and bottoms. And just like that, you have a beautiful apothecary drawer set.