The Clever TikTok Hack To Edge Your Lawn When You Don't Have An Edger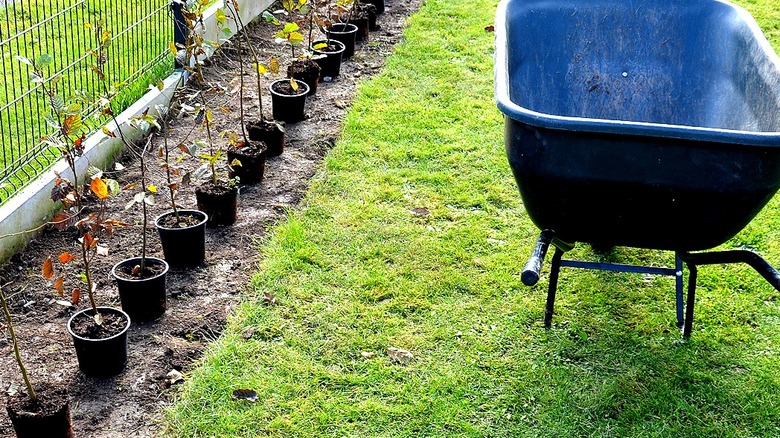 Beekeepx/Shutterstock
We may receive a commission on purchases made from links.
Keeping your lawn flourishing and in prime condition takes consistent effort. Besides mowing regularly and using the right mower for your type of grass, you must also feed, water, and nourish your lawn while removing weeds and trying to prevent them from growing in the first place. And once the basic lawn-care staples are done, there's perhaps nothing more satisfying than placing a sharp, clean edge on your home's lawn, and according to one TikTok hack, you don't even need an edger. All you need are sharp shears.
Beyond the aesthetic satisfaction you get from having a cleanly edged-lawn, there are some benefits to your grass as well. A sharp edge actually helps curtail weeds from taking up space along the edges of the lawn. At the same time, by giving the grass a clear line of demarcation, it prevents grass from overtaking the concrete or soil next to it.
How to edge your lawn without an edger
@alexandersgardening

Satisfying lawn edging 🌿 I always make sure i keep these lawn edges looking crisp on each visit using my brand new replacement Bahco P75 edging shears that I've been using on my lawns to cut along the edges for many years now and would highly recommend them to anyone thinking about getting a pair - This is not an ad btw, I would just like to share with you guys what edging tools I personally use on a daily basis in my gardens as it's one of my most frequent questions I get asked across all my social platforms. 🙂🌿 Tools used - Bahco P75 edging shears Half moon edging iron 3 prong cultivator - - - #lawnedging #lawnedges #satisfying #gardening #fyp #foryourpage

♬ Wicked Game (Αs performed by Chris Isaak) - Pop Music Workshop
Even though a good edge on a lawn is a good idea, not everyone owns an electric-powered edger. TikToker @alexandersgardening certainly doesn't, and according to him, you don't need one either to properly edge your lawn. The professional gardener from London prefers to edge lawns manually with a pair of long-handled lawn shears. Though this method may initially seem like more work or unable to do as good a job as an electric edger, it provides an amazingly clean finish.
In the TikTok, @alexandersgardening demonstrates how he edges a winding lawn with ease, using a pair of Bahco P75 edging shears (available from Amazon for about $82). Using quick cuts along the edge, he maneuvers the shears like they're simply big scissors, cutting away grass from the lawn's edge where it meets the flower bed.
Next, he uses a half-moon edging iron to dig into the ground. The shape of the iron allows it to go deep into the ground, severing any grassroots while also helping attain a crisp and clear border. He finishes up by using a three-prong cultivator to clean up any debris that was left over and strewn across the soil next to the lawn.
Benefits of manual edging
One upside to doing manual lawn edging with sharp shears is that the finished product is more exact. The line of demarcation and the depth of it is entirely up to you. You have more control over the tools when you're using your own strength to get the job done.
Further, mechanical edgers often have cords that can get in the way, though there are cordless types available that must be charged. Some run on gas, while others work fine using only batteries. When using mechanical edgers, safety is also an issue. You must be careful to keep the edger steady, and there's always the potential for the edger to hit a big stick or rock and send debris flying into the air. Keep children and pets at least 30 feet away when operating an electric edger and protect your face and eyes.
Another benefit of using shears to edge your lawn, like TikToker @alexandersgardening, can be the lack of noise pollution. Many gardeners like to get an early start in the morning, which isn't always welcome to family members (or neighbors) who sleep in. No one wants to hear an electric gardening device while they're sleeping yet that sometimes happens when people do their own lawn maintenance at the crack of dawn. With manual shears, you can edge all you want, minus the noise.