Measure Without A Ruler In A Pinch With This Genius Dollar Bill Hack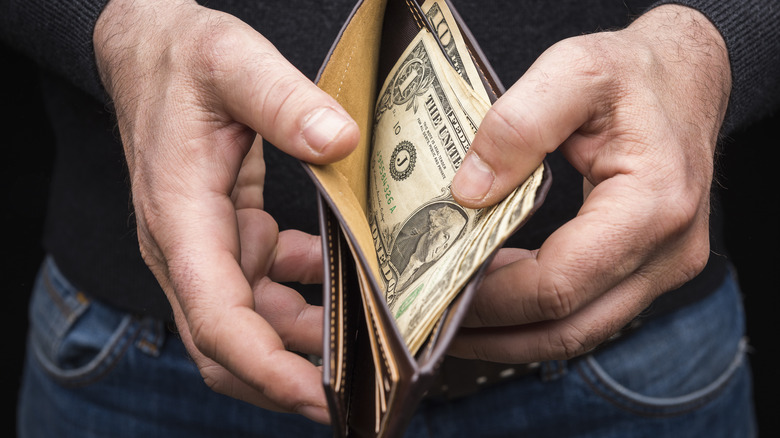 Arsenisspyros/Getty Images
Measuring tape is one of the essential tools that every homeowner should have, but with no measuring tape or ruler on hand, the simplest solution could be in your wallet. A dollar bill is one of the best everyday items to use as an alternative measuring tool — with a consistent length of approximately six inches, you can use a standard U.S. dollar bill for any quick measurements.
Start with an intact U.S. dollar bill — you can also do this trick with other currencies, as long as you know the standard length of the bill. Since a dollar bill isn't marked with measurement units, you'll need to establish a reference point at the start of the measurement, such as lining up the bill with the edge of the surface or at a specific pencil mark on a wall. Then, simply lay the bill flat across the distance you're trying to measure. If the distance is longer than a single bill, mark the endpoint with a pencil (or your finger) and lay the bill out again, continuing until the measurement is complete.
Once the length is measured in units of dollar bills, you can convert it to inches. Per the U.S. Currency Education Program, a one-dollar bill is 6.14 inches long. So, multiply the length you measured in bills by 6.14, and you'll have the measurement in inches. For instance, a length of two and a half dollar bills would be a little over 15 inches. 
Is a dollar bill measurement accurate?
While using a dollar bill for making measurements will get you fairly accurate results if executed carefully, it's important to note that there are some significant caveats to this measurement trick. Firstly, not every dollar bill is a perfect uniform length. As currency circulates through various transactions, it gets repeatedly folded into wallets, stuffed into cash registers, and fed into ATMs, thus causing the edges to wear down. Continued circulation of a bill can result in a slightly shorter length. Ideally, the bill you use for measuring should be in crisp condition with undamaged edges, but realistically, this won't always be the case. Additionally, since the standard dimensions for a dollar bill are based on the imperial system (inches), if you require a measurement in a metric unit (such as centimeters), you'll have to do some quick conversion math after measuring. This extra step introduces more room for error, potentially lowering the accuracy of results. 
With all of these factors in mind, you shouldn't use a dollar bill for any measurements that require extreme precision, such as spacing furniture in a small room. However, if you don't need a measurement to be ultra-precise, a dollar bill will get the job done in a pinch. The dollar bill measurement hack is a convenient trick when you don't have a ruler or measuring tape, and as long as you allow for slight errors in accuracy, it's an easy solution for estimating length.