The Vacuum Accessory That Could Change The Way You Clean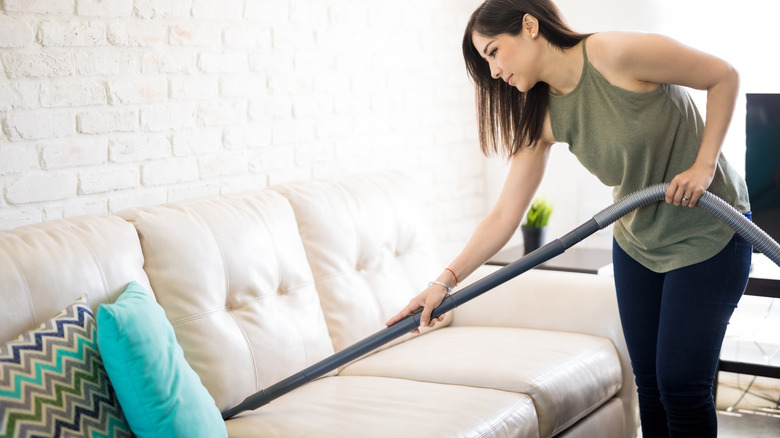 antoniodiaz/Shutterstock
We may receive a commission on purchases made from links.
According to Onedesk, over 40 million vacuums fly off shelves and into our shopping baskets annually, proving just how popular they are when it comes to cleaning. While vacuuming can be easy when working with floors, tighter nooks and crannies can be a hassle, especially if you have to reach quite far. However, there is one vacuum accessory that could change the way you clean for good. Say hello to Dyson's flexible extension hose! This dreamy attachment will work wonders if you're the proud owner of a Dyson vacuum and will allow you to reach further than ever before. For example, you may be able to clean around your ceiling fan, on shelves, on your stairs, and down any other cracks and crevices alike.  
As a result, you should be able to clean your home much more easily without being limited by the length of your hose! If you're pondering on cost, the Dyson attachment will set you back $24.99. However, other options can be considerably cheaper. Just keep in mind that you may not have the same warranty as you would with Dyson. So, if you're looking to upgrade the performance of your device, then this attachment could be the perfect solution to your vacuuming woes. Not only that, but it shouldn't break the bank either.   
Reach those difficult cleaning spots
Thankfully, using the Dyson flexible extension hose attachment is relatively easy. However, you should check you have a compatible model first. Once you have one on hand, you only need to slot your flexible hose attachment into place and use it to access those pesky, hard-to-reach, dusty areas that you normally can't clean with a regular vacuum. For example, this could include any desk or countertop space, on top of an office chair, on your TV stand, and even your kitchen table. Likewise, you could also use it to clean down any small cracks and crevices. As a result, you should find that it's much easier to clean, and using it should speed up your overall cleaning process. When you're done, simply pop it back off and store it back away for next time.  
You still have options if you don't have a Dyson vacuum. A quick search for a flexible hose attachment should give you a wide range of choices; however, what's available will all boil down to the brand and type of vacuum that you have. For example, you can use an attachment to clean your dryer vents or keyboards, among many more options. If you're feeling unsure, you can always pop in and ask for some professional advice. After all, there's no point in using an attachment that isn't the correct fit for your vacuum. However, it may be challenging to fix if you get something lodged in there.