Use Jenn Todryk's Genius Idea To Create Storage & Give New Life To Your Unused Cabinets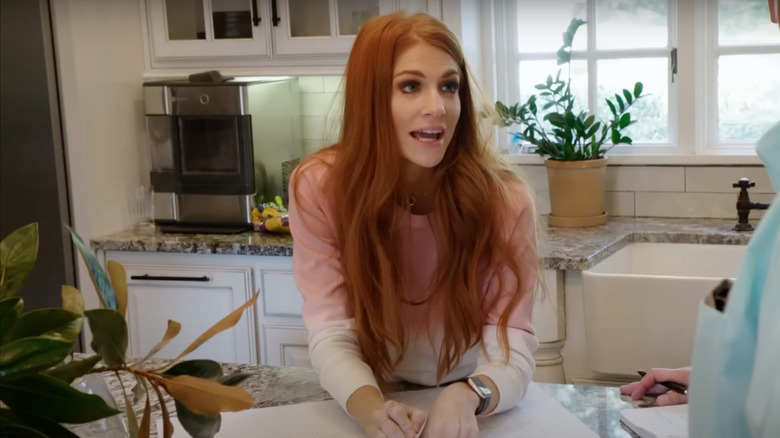 Sturti/Getty Images
When it comes to getting creative with interior design, Jenn Todryk is the master. On her HGTV show "No Demo Reno," Todryk often has to come up with creative solutions to transform a home without a large-scale remodel. In season 1, episode 6, Todryk makes the unusual decision of keeping the kitchen's cabinet footprint because the flooring would be too expensive to change. She then has the idea of using the lower cabinets as a hutch in the dining room.
"I really need to amp up some cozy elegance in this dining room," Todryk explains in the episode. " . . . and create a hutch for Maya with her reused kitchen cabinets, so she can display her holiday decorations and it will give her more storage." Though the goal was not to mess up the floors to avoid spending unnecessary money, being able to reuse the lower cabinets also helped Todryk save her clients money while salvaging existing fixtures from the home. Besides avoiding extensive demolition projects, one of the best ways to save money during a renovation is to reuse the pieces you already have.
Old fixtures, new potential
Just because something is old doesn't mean it can't find new potential functioning in another way. The cabinet-to-hutch transformation is just one example of revitalizing old pieces of furniture in a brand-new renovation. "This is a very creative way to work with a limited budget," Todryk says about the custom hutch project on HGTV. The bottom of the hutch, which was salvaged from the old kitchen cabinets, was the most expensive part of the project. From there, the old cabinets had to be installed on the dining room wall, accompanied by a beadboard backing and shelves above it.
A hutch in the dining room isn't the only potential project for old kitchen cabinets. Clean out kitchen cabinets to create built-in storage for a home office. This would be a great place to keep files, supplies, and important documents out of your workspace. You can also use kitchen cabinets as a bar station or bar cart that has built-in storage. Add padding and upholstery and turn them into a bench under a window where you can store games or books underneath. And if you have a child who's interested in cooking, use old cabinets to create a fabulous play kitchen for them to use. If you're about to do a kitchen remodel, before throwing out your old cabinets, consider a way to transform them for somewhere else in your home.