The Real Reason IKEA Doesn't Sell Murphy Beds
Jeremy Poland/Getty Images
When it comes to furnishing our homes, for many of us, IKEA is a go-to destination for stylish and affordable options. And, if you're thinking of buying a space-saving Murphy bed, IKEA may be among your top choices of retailers. Unfortunately, you'll have to scratch IKEA off your list. One of the things you probably don't know about IKEA is that the Swedish furniture and home goods store doesn't sell Murphy beds. And there's a very good reason for that.
In its mission statement, IKEA states its brand aims to provide "well-designed, functional, durable, affordable, and sustainable home furnishing solutions to people with big dreams and thin wallets." In order to do this, IKEA famously builds its products from high-quality but less expensive materials. A Murphy bed, given its design and function, requires extremely durable and sturdy materials, which are likely more expensive, in order to make them safe. However, IKEA wouldn't be able to deliver on this while still staying in line with its mission and business model. Hence, IKEA manufactures and sells various types of beds, but not Murphy beds.
A matter of construction and materials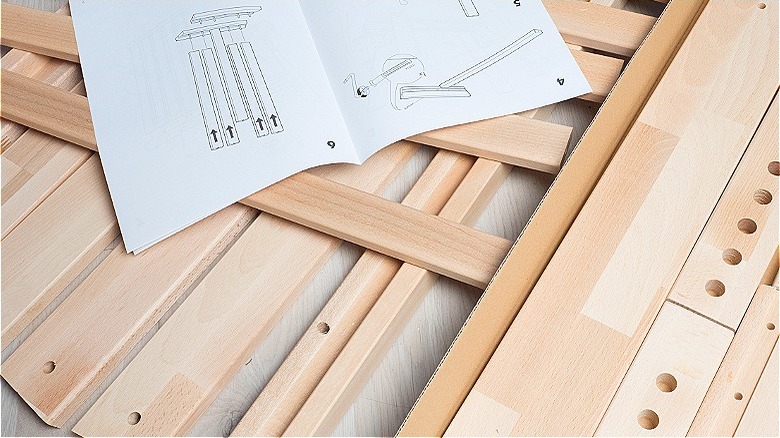 Bobkov Evgeniy/Shutterstock
While IKEA prioritizes function and affordability, its construction methods and materials aren't suitable for the specific demands of Murphy beds, aka wall beds. A breakdown of IKEA's FY22 product line finds that particle board comprises 49% of the company's wood-based material, followed by high- and medium-density fiberboard at 19% and solid wood components at 12%. While Murphy beds are made of various materials, including solid wood, metal, melamine, and, even, particle board, the consensus most durable, long-lasting material for a Murphy bed is solid wood (it's also clearly the heaviest). When it comes to safety for Murphy beds, as well as durability, materials like particle board are considered less safe and more likely to damage. 
Considering these factors, it makes sense IKEA hasn't pursued the manufacture of Murphy beds, despite the space-saving appeal of such furniture and the Murphy bed's recent bump in popularity. Further, the cost of buying stronger materials would likely prevent IKEA from making Murphy beds affordable for customers or competitive with other furniture companies already established in making this type of bed. And making these beds from IKEA's existing, more affordable materials could leave IKEA vulnerable to liability.