The DIY Outdoor Kitchen Space That Is Easier Than You Think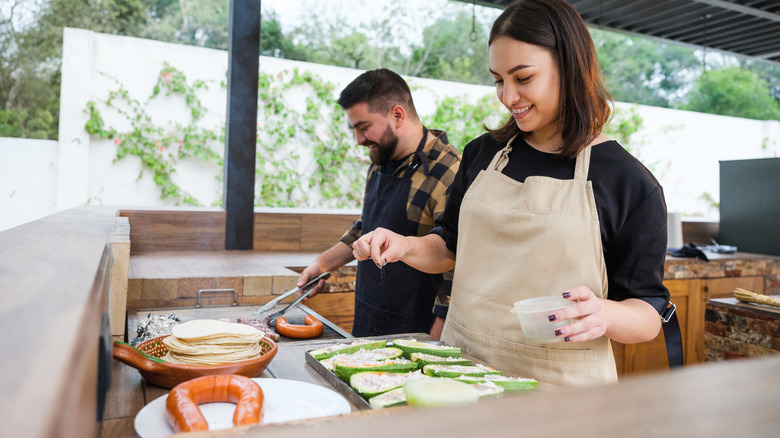 Aldomurillo/Getty Images
We may receive a commission on purchases made from links.
Having an outdoor kitchen allows you to entertain your guests without the inconvenience of running in and out of the house. There are plenty of outdoor kitchen designs that you'll fall in love with. But one of the things you should know before building an outdoor kitchen is what it's going to cost you. Their budgets can range from $2,000 to $40,000 when buying pieces from the store, with an average cost of $13,180 when hiring professionals. Or you can create a DIY outdoor kitchen, which is a whole lot easier than you might think.
While fancier outdoor kitchens might come with all the bells and whistles like a pizza oven and sink, you can make a perfectly functional simple version for between $500 and $1,000 by just including the basics. You can spend even less by buying some of your items used at tag sales or on sites like Craigslist and Facebook Marketplace. The main components of an outdoor kitchen are having a cooking mechanism and some counter space. Once you have those things down pat, you can add utensils and other things to make cooking and serving more convenient.
You'll start with the obvious: a barbecue grill. A gas grill can cost anywhere from $100 to $3,000, but something decent, like this 4-burner propane gas grill by Nexgrill from Home Depot, is around $250. The quality and price of the grill should depend on how much you'll use it and how long you want it to last.
How to build a DIY outdoor kitchen
For counter space, use an elongated two-tier outdoor workbench. You can get a customized workbench from Etsy starting at $275 for a 3-feet by 3-feet bench. You'll want a bench that's big enough for you to prepare food and serve food on. It should be large enough to hold items your guest will need, like cups and napkins.
This caddy from Amazon costs $50 and holds paper towels, utensils, condiments, and plates. Install towel hooks on the sides of your workbench to hold utensils and tools, like tongs. This heavy-duty pack of six stainless steel hooks suitable for outdoor use costs $15 on Amazon. A $22 stainless steel towel bar from Amazon can also be attached to your bench. Use the bottom rung of your workbench to hold a cooler for drinks. A galvanized steel tub to put drinks in goes for $82.50 at Home Depot or use this 52 qt. Igloo cooler from Target for $40. 
For an even more functional outdoor kitchen, you can place your bench in between your grill and a smoker, which is similar in price to a grill and comes in charcoal, gas, electric, and propane options. To save money, you can also opt for a grill and smoker combo like this one for $350 from Home Depot. Another option is placing an outdoor pizza oven for $150 at Home Depot in your outdoor kitchen or a stainless steel flat-top griddle for $90 from Amazon.