How A Milk Jug Can Make Filling Your Bird Feeder Easy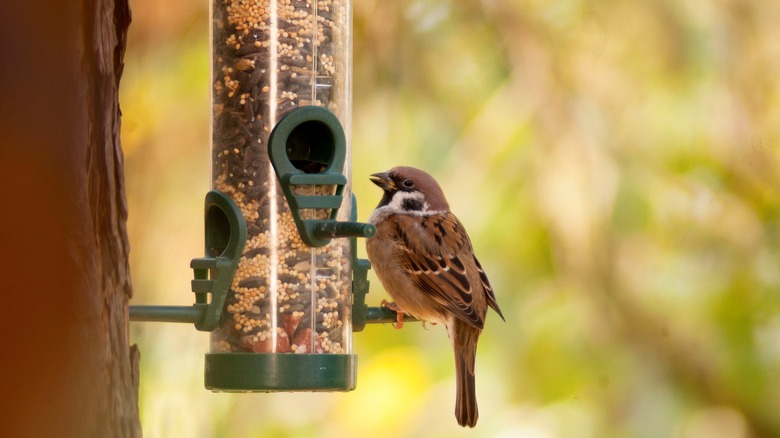 Misha Zlatarov/Shutterstock
Setting up a bird feeder in your yard creates a place of respite not only for your tiny visitors but also for yourself. It's a relaxing spot to spend a few moments outside while you watch the birds enjoy the treats that you've provided for them. However, maintaining the feeder by keeping it clean and filling it with food takes time. If you've ever filled a feeder in a hurry, you know that a lot of it can accidentally spill onto the ground. The same thing can happen if you have young helpers in your house who want to feed the birds but may not get all of the seed into the right place. Luckily, there's an easy way to fill a bird feeder without creating a mess. All you need to do is create a funnel out of a plastic milk jug.
The biggest advantage of creating this funnel is that the main item you need is probably in your refrigerator just waiting to be repurposed. Use a pair of scissors to cut the milk jug in half horizontally, making sure to cut below the handle so that it is still attached to the spout of the container. Keeping the handle attached will give you more control to direct the seed into the mouth of the feeder. When you turn this piece upside down, you'll see that it becomes a funnel. Remove the cap, wash the piece, and let it dry before you use it to fill your feeder. 
The perfect funnel for a bird feeder
One reason that pouring seed into a feeder can be tricky is because the mouths of many feeders are very narrow. For example, certain feeders that are made for smaller birds have tiny openings that can make it difficult to fill them without spilling. In addition, it can be especially hard to aim food into a narrow opening when you're pouring seed from a large, flimsy bag. When you position the funnel over the feeder, the opening will now be wider and easier to manage. Another main benefit of using this funnel is that it will save you money from the wasted bird seed that could get scattered across your ground if you were messy when filling the feeder. Maintaining a cleaner environment in your yard will also prevent unwanted visitors such as mice or squirrels from coming to enjoy the spilled seed. In addition, you can create more than one funnel to keep with different types of bird seed. 
To use this funnel, place it on the feeder's opening with the top facing downwards, then pour the feed in. Keep in mind that the sides of the funnel may be sharp and could be scratchy. It may be worthwhile to gently sand the edges of the funnel before using it, especially if you have young children who will be handling it. Using this funnel will make those peaceful moments in your garden more enjoyable for both you and your small visitors.