What Is A Bottle Garden (And How To Make Your Very Own)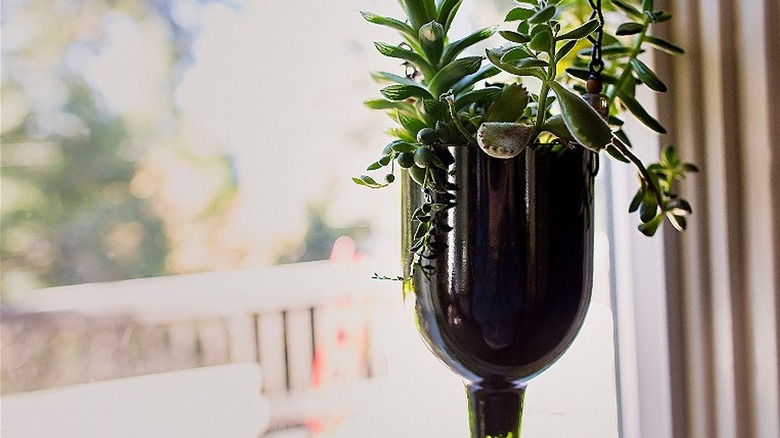 Katy Hill/Shutterstock
We may receive a commission on purchases made from links.
Whether you're looking for ideas for your small backyard or want to create the perfect indoor garden, a bottle or two might be just what you need. Or, to be a little more specific, you may want to set up a bottle garden. A fantastic way to make use of the old bottles that might be lying around your home or super-cool ones you've spotted at a thrift store, you'll end up with your own micro-environment after a few easy-peasy steps. Of course, you could always refer to your crafty creation as a terrarium or even a mini-greenhouse, which is absolutely adorable.
With a bottle garden, everything is contained within a safe, manageable space, making this a great project for a beginner gardener. Plus, it works well for indoor or outdoor displays. As for the bottle, for this hack, the focus is on glass containers, but they can be of any size or shape. Just try and find one with a lid or cork so you can seal everything inside with ease.
Repurpose glass bottles into self-contained gardens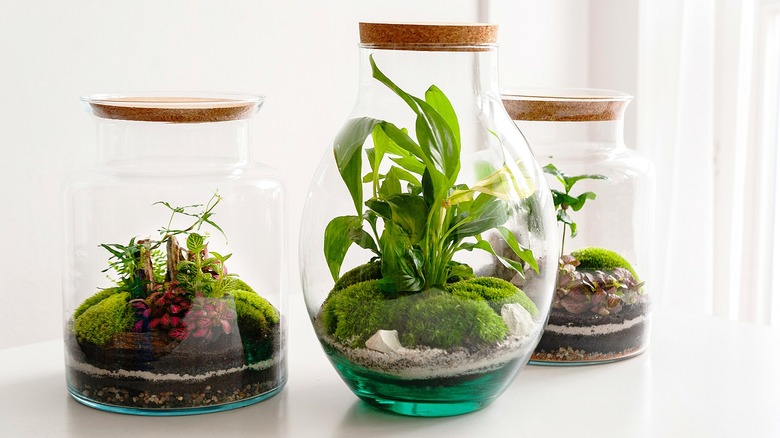 qnula/Shutterstock
When you're ready to create your bottle garden(s), begin by sorting through your old bottles and other glass containers, including jars. If your garden will be more of a terrarium (like above), you'll want a clear container that'll let the sunlight in. Alternatively, you could go with colored and/or frosted glass if your plants will grow above the surface, as with a regular planter.
Next, wash the glass bottles and make sure they're fully dry before you fill them with porous soil that lets air pass through and isn't as likely to rot. You might also want an inch of pea gravel as a base and horticultural charcoal on the soil to absorb odors. If you're placing grown plants into the bottle, rather than growing from seed/seedling, then you'll also need to make sure the bottle's opening is large enough for the plant(s) to fit through.
When you've completed your bottle garden or multiple bottle gardens, it's time to choose the perfect spot for each. Indoors, these small gardens can fit virtually anywhere, so long as the location will get enough sunlight. If you keep the little gardens outside, grouping them together on a table, bench, or fence would create a fun, green focal point; you could also hang them up indoors or outdoors with an adjustable hanger, like this wood bead hanger from World Market, or a macramé design, such as this Mkono hanger at Amazon.