The Stunning Home Feature Martha Stewart Swears By For Winter Gardening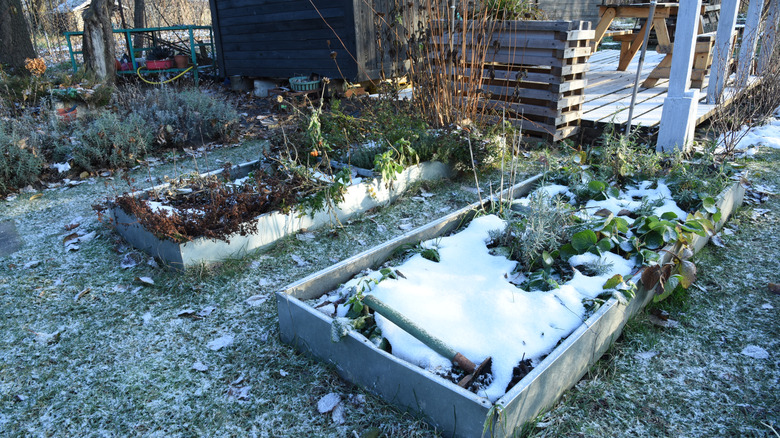 Aleksandra Cheremisova/Shutterstock
For homeowners fortunate enough to have a fertile plot of land for growing a healthy garden, it's incredibly satisfying to sink one's hands into the rich soil. Planting a vegetable or fruit garden and then being able to eat the produce during the warmer months is a delightful perk of country living and even saves a little money on groceries. However, the good times never last, as winter brings desolate garden beds ravaged by frost and snow. Domestic goddess Martha Stewart's resourcefulness and green thumb have always been inspiring, so it's no wonder she built a stunning greenhouse to grow fresh vegetables throughout the winter.
As the seasons transition out of summer and crisp days move in, what's available in a typical outdoor garden changes. Speaking on this topic, Stewart says (via Instagram), "One of my dreams was to have a vegetable greenhouse. When my summer vegetable garden ends after the first frost ... this vegetable greenhouse really does provide me with food throughout the winter months."
What Martha Stewart grows in her fabulous greenhouse
According to her blog, Stewart's extensive greenhouse features 16 raised wooden garden boxes built to ensure excellent drainage while protecting the plants. She grows beds of green lettuce – Stewart's go-to suggestion for beginner gardeners – rainbow chard, kale, turnips, beets, as well as cauliflower and broccoli. She's also known to successfully cultivate beautiful crops of grapefruit, starfruit, and strawberries in her greenhouse.
Are you feeling inspired to look into what it might take to build and maintain your own greenhouse? "It doesn't have to be a big elaborate structure like this, but if you do like to grow things, having a winter greenhouse is really a rewarding experience," Stewart says in her Instagram post. For a functioning greenhouse, be sure to research the circulation necessary to maintain a suitable climate and invest in garden beds with optimal drainage. The building's orientation will also be an important consideration so that your plants can soak up all the sun they need.