Lyndsay Lamb's Favorite Faux Plants Are The Perfect Decor For Your Home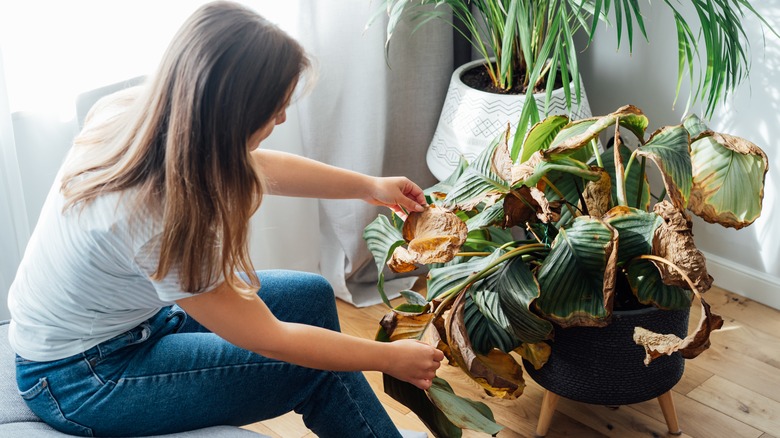 Okrasiuk/Shutterstock
If you want to upgrade the decor in your home but it's not the right moment for either a full renovation or new furniture, what do you do? Even though plants are more subtle than new art on the walls or a different rug, they can change the vibe of a room instantly. They add life and color, and they're relatively low cost. But, there's a bit of maintenance to keep them alive even if you're a dedicated plant mom or dad. For some, a perfect solution is to get super-realistic-looking fake plants instead of the real thing. HGTV's co-host of "Unsellable Houses," Lyndsay Lamb's favorite faux plants include succulents and grass stems.
There are so many advantages to having faux plants, the most obvious being they'll never wilt and will last for years when stored properly. If you, your family, or guests have allergies, they're hypoallergenic and this makes them pet friendly too. They're super low maintenance, only requiring dusting. Faux stems are especially versatile because you can either display them in a vase, fashion them into a wreath for the front door, or frame a hallway with sprays of leaves or grasses.
Using faux plants as decor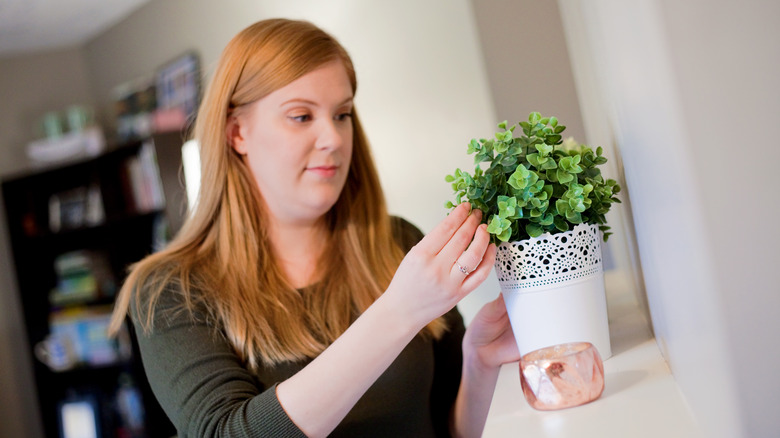 Christa Boaz/Getty Images
On her Lamb & Co. blog, Lindsay Lamb says, "I know that taking care of plants might not be for everyone, and as much as I LOVE my plant babies, I think having a few good faux plants around is essential!" Succulent plants are petite in size and often have chubby, fleshy leaves that are designed to retain water in desert climates. We can see why these would be some of Lamb's favorites. They're adorable, and the Succulents and Trailing Succulents at her store are high quality with excellent, realistic color variation. Their size makes them a cute kitchen accent, and a small grouping would perk up a corner of the living room.
She also loves the Faux Dried Grass Spray, and we appreciate how natural the colors are. As for where else to put faux plants, you can fill a vase with these grasses, trimming their stems to vary their heights for a realistic and dramatic dining room table centerpiece. Or they'd look smashing just inside the front door on a foyer table.
As a best practice, it's best to keep these gems out of direct sunlight because otherwise they might fade or discolor. Keep them indoors unless they're marked "outdoor safe," which means they've been treated with UV protection. Dust them gently with a dry, soft cloth, and never use water or chemicals to clean faux plants.