Why Those Christmas Ornament Hangers Are Perfect For Your Hummingbird Feeder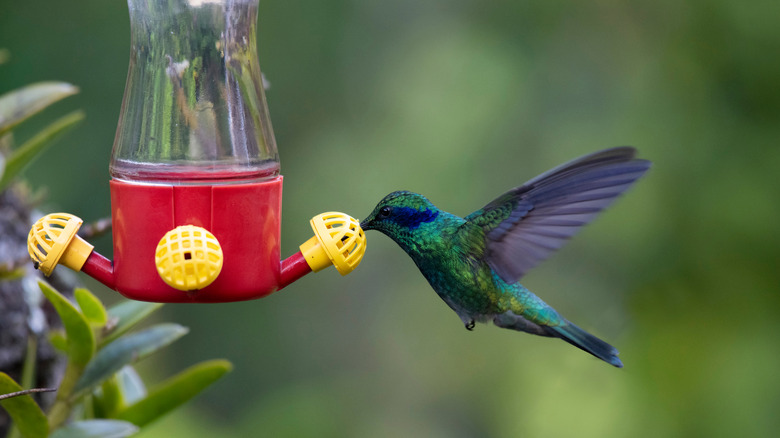 Gualberto Becerra/Shutterstock
We may receive a commission on purchases made from links.
Hummingbirds are one of the most eye-catching creatures to witness, which is why bird watchers are eternally fascinated by them. Hanging feeders in your yard can provide you with an inexpensive way to attract hummingbirds to your garden and provide some food for them. There are many different types of hummingbird feeders available, and not all of them have perches. Hummingbirds sometimes need to perch when feeding because this helps them save energy and rest up before flying off again. What you probably didn't know is that you can turn the ornament hangers that you used during the holidays into perches to serve the local wildlife.
Before you go clearing out that stash of ornament hangers, you might want to repurpose them in your garden. If you have a hummingbird feeder or two in your yard, create perches for the visiting feathered friends to settle on while they gobble down the nectar inside the feeder. Since they beat their wings anywhere from 10 to 80 times per second while hovering, hummingbirds consume a lot of energy, so this could be extremely beneficial for them. Further, this hack is very easy to accomplish. Thanks to one TikTok creator, you can learn to use Christmas ornament hangers to make some alterations to your feeder in just a few minutes.
Create perches out of ornament hangers
Repurposing metal Christmas ornament hangers as perches on hummingbird feeders is incredibly easy. All you'll need are metal Christmas ornament hangers that can easily be bent, like these Leafeon Christmas Ornament Hooks from Amazon. TikTok creator and hummingbird enthusiast @hummingbirdsbringjoy shows how simple it is to turn these little metal hooks into the perfect perches for all your feathered friends.
Start by bending the hooks into a hook shape, which should be easy enough since the wire is thin and malleable. Once you've gotten a decent semi-circular shape, bend one hanger around each of the feeding holes on the feeder. Move the hangers around until they're sticking out at an ideal angle that's long enough to hold the birds' feet. Also ensure that the ornament hangers are bent wide enough so that the hummingbirds don't get their legs stuck in them. Your DIY perches will allow the birds to not only rest but will also give them the chance to stay aware of their surroundings. This is because, instead of having to exhaust all their energy when hovering, they're able to look around them for predators and other birds while feeding. The hummingbirds in your yard are sure to be grateful for your efforts.