Use This Hack To Neatly Drill Holes For New Cabinet Hardware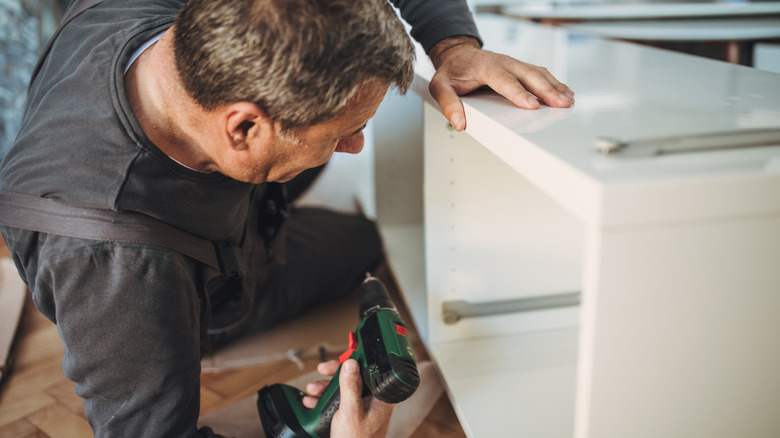 Hirurg/Getty Images
If you're an intrepid DIYer, you might have found that drilling gets you a sloppy-looking hole with protruding bits of particle board poking out around the edges. That's not great news when attaching hardware — it might not fit correctly, or there could be a misalignment. Luckily, there's a great fix. Securing wood or particle board to the front and back of the cabinet and then using a long drill bit to penetrate all three layers can give you a clean, neat drill hole.
When DIYers take on a cabinet project, there's so much creativity possible, and you want to be able to execute your vision. Some of the best results we've seen include DIYers creating a chic cabinet hack by combining two bookcases or swapping out standard pulls for amazing antique glass doorknobs. And hunting for unique replacement hardware is part of the fun when tackling a home decor project. So, to keep your creative choices working properly, your customization needs to be seamless, and we're happy to report this is an excellent fix.
How to neatly drill holes for new cabinet hardware
For this project, you'll need a measuring tape, a pencil to mark the hole, a piece of wood or particle board for the front, a similar piece for the back, and vices to hold everything in place. Make sure you choose the right drill bit for your drill; it should be long enough to pass through 3 inches of wood or board. Once you have all of that, you're ready to go.
After you've marked exactly where on your cabinet you want to drill a hole, line up the front piece of particle board and measure where its corresponding hole should be; i.e., when you place it over the cabinet, the hole marks should line up perfectly. Place another piece of wood or board directly behind the cabinet and tightly hold the three pieces together with two vices. If you're confident that you have measured correctly and the hole marked on the front piece matches the spot marked on the cabinet, go ahead and drill straight through. Remove the blocks, and you have a nice, clean drill hole.