TikTok's DIY Answer To Charging Behind The Couch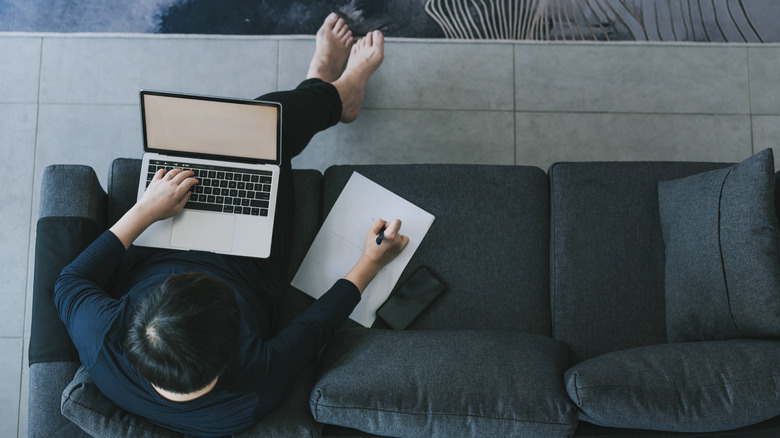 Edwin Tan/Getty Images
Those of us who work from home may incorporate a home office into the living room, working at the dining room table or on the sofa as the mood strikes, usually with our various screens nearby. A super smart idea these days, perhaps inspired by the amenities in a good hotel, is to create a handy charging station so our devices are still within reach while they're powering up. That's why we can appreciate the simple genius and ultra convenience of TikToker @therehablife's behind-the-couch charging ledge. It's made from pine lumber, mini power strips, and fine attention to detail.
While straightforward, this project may be best for intermediate-level DIYers and above. There's a substantial supply list, but you may be able to borrow the drill or jig saw and get the lumber cut according to your specs at the store. To determine lumber measurements, measure the width and height of your sofa. If your sofa is 70 inches wide and 25 inches high, get one pine board cut 70 inches long, and a second piece 1½ inches shorter — 68 ½ inches in this example. Get two boards cut three-quarters of an inch shorter than your sofa height, in this case, 24 ¼ inches each. You'll need 1 ¼-inch trim head screws, a power drill, a wood filler, a sanding block, two flush-mount power strip sockets, a jig saw, paint or stain, and a paintbrush.
How to make your charging ledge
Next, measure the bottom part of the flush mount power strip that'll drop into the board, and use those measurements to cut out a cardboard template. Take your longest board and position the template on both ends, marking exactly where you'll want both of them to be, let's say 10 inches from each edge. Center the cardboard templates, outline them with a pen, and drill a starter hole big enough for you to then use a jigsaw to cut out rectangles for the power strips. Pop those outlets in to make sure they fit.
To create a table shape, you'll connect the two small boards as legs to the long board. Pre-drill holes, then attach the legs with screws. Turn the assembled table upside down, legs facing up, and position the remaining lumber between the two short boards, flush against one edge of the long board, and drill it in. It shouldn't block the socket rectangles. Secure with screws along the top and on each side.
Use wood filler to fill every screw hole. When that's dry, sand the excess filler away, then sand the entire piece. You can apply a stain or paint your woodwork, let that dry, then protect it with polyurethane. Insert the sockets into the rectangles and secure them with the screwdriver. Position your creation behind the sofa and plug everything in!