Use Joanna Gaines' Simple Plant Trick To Freshen Up Your Home As Seasons Change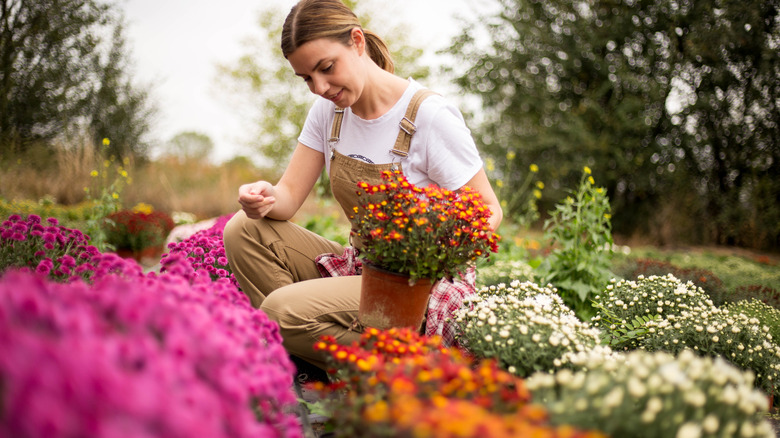 Twentyseven/Getty Images
The changing of seasons is the chance to breathe new life into your home. Of course, with seasonal change comes holidays that many people decorate. But many people also like to decorate to celebrate new months and seasons, swapping out throw pillows and other decorative objects around the house. Joanna Gaines, star of "Fixer Upper: Welcome Home" and "Fixer Upper: The Castle," loves to swap out the plants in and outside her home as the seasons change. "I also get excited about the change of seasons and love switching out the flowers in my planters to create a fresh feel," Gaines says in an interview with My Domaine. "I'm about to convert my summer planters over to fall, adding plants with different textures, which will make a big visual difference."
The right plants can make a major difference in your home's curb appeal as well as the feeling inside your home. Swapping your plants out so they're always in season will make your home feel new every few months, as well as bring the feeling of the season into your decor. Choosing plants that are long-lasting and in bloom that season is just as important as color and texture. Gaines continues, "Right now, I'm considering which plants will live longest next season and which ones I'll be planting for fall." In a photo posted to Instagram at the start of fall, it looks like the Gaines' porch is bursting with textured foliage in muted fall colors.
Choosing foliage for fall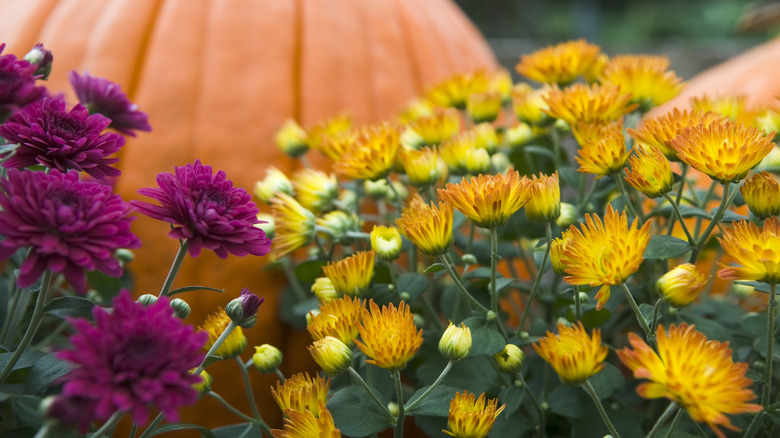 Alpamayophoto/Getty Images
Decorating your exterior with flowers and plants is a great way to add texture and visual interest. Joanna Gaines says the small details can make a major impact on your exterior. "[F]ill some planters with seasonal flowers (I always include ivy)," Gaines says in an interview with My Domaine. However, it's essential that you choose florals and foliage that will thrive during the season they're outside. For flowers, zinnias, dahlias, violas, marigolds, and chrysanthemums will add bright colors as the weather gets colder. You can add color and texture with goldenrod and salvia, which offer taller blooms with vibrant colors.
As for more leafy plants, Heuchera offers a unique texture with deep purple and red shades. This is a great plant to use as a border filler. Other interesting leafy plants that will bring in color and texture are leucotheo, coralbells, foamy bells, orange sedge, and dwarf pine. Combine leafy plants, ornamental grass, and bright flowers in one pot to create an eye-catching display outside your home.