How To Create A Beautiful DIY Bird Feeder Out Of Coconut Shells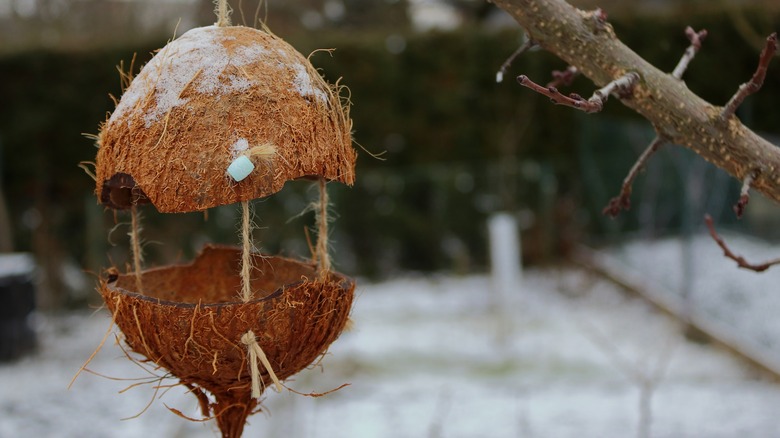 rogiol/Shutterstock
Birds spend a ton of their energy on flying and are constantly looking to replenish that energy with food. That being said, it is extremely rewarding to watch different species of birds stop by and enjoy a snack that you provided. Store-bought bird feeders work great, but homemade ones work equally as well. With a coconut shell, a handful of common craft supplies, and some loose bird feed, you can create a simple and inviting bird feeder fit to welcome feathered visitors to your yard.
People opt to make their own bird feeders rather than buy them for many reasons. For one, they have supplies already at home and would rather utilize their crafty imaginations than their wallets. Many also recognize the impact that plastic, a common material used to make store-bought bird feeders, can have on the environment and its animals. The do-it-yourself coconut shell bird feeder is effective, cost-efficient, environmentally friendly, and fun to make.
Making the feeder
Before you begin making your bird feeder, figure out where you would like to hang it, whether it be on a low tree branch or on a hook on your front porch. There are many different do-it-yourself bird feeders, but this YouTube tutorial uses two halves of a coconut shell, six popsicle sticks, hot glue, and a ten-inch piece of string. Besides the coconut itself, which can be purchased at the grocery store, all of these items can be found at your local craft store.
Once you have all of your materials, start by using a screwdriver to poke through two of the three divots on the top half of the coconut shell. Next, take your string and weave it through these holes, form a loop on the outside, and secure it to the shell with a double knot and a dot of hot glue on the inside. Then, place your two shell halves on the table so that the insides are facing each other. Connect them by hot gluing the ends of each popsicle stick to the inner edges of the shells, distributing them around each rim. Your finished feeder will have a bowl at the bottom to put bird feed, as well as a roof with a loop to hang the feeder up. Once complete, allow the glue to dry, fill it with seeds and essential nutrient sources, and hang it up outside for the birds to feast!