Rough Up Your IKEA SKOGSTA Bench For A Custom Vintage Look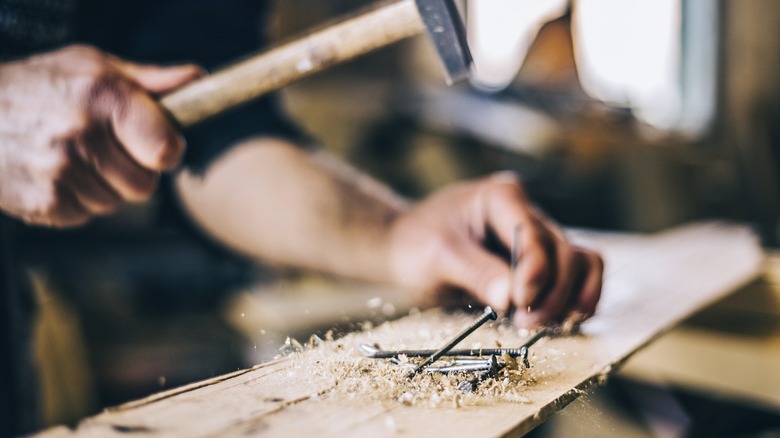 Obradovic/Getty
Antique furniture is desirable for practically every interior design aesthetic — from classic traditional to the trendy "hipstoric" home aesthetic; those old pieces can add both a unique flair and some mature gravitas to your space. If you have a gorgeous antique furniture piece in your sights, but it simply doesn't fit into your budget, there's a simple solution: create the look yourself. With enough elbow grease, you can transform standard wooden furniture into the elegant vintage item of your dreams. DIY content creator @clairedouglasstyling offers an excellent example of how to DIY a faux vintage wooden bench, using the IKEA SKOGSTA bench as a starting point. After a little roughing up and a coat of wood stain, the IKEA SKOGSTA bench looks a lot more like a beautiful antique gem than a basic modern style.
The IKEA SKOGSTA bench, usually available for around $95, is made from solid wood and has a simple, streamlined silhouette. The instructions for this project are quite short: wreck the bench. @clairedouglasstyling uses all kinds of methods for wearing down the wood and giving it an aged effect, including sawing at the sides, drilling random holes, and, for good measure, beating it with a hammer (by the way, this project is a great way to let out any stress or anger you're holding onto). Once you're satisfied with the wear and tear you've inflicted on the bench, follow up with a dark wood stain that gives the piece a more dramatic, vintage feel. 
When to DIY fake vintage furniture
Making fake vintage furniture is a fun DIY idea with cool results, but you should be very selective about what furniture pieces you use and how you go about doing it. When it's possible, acquiring authentic vintage furniture is your best option for getting an antique aesthetic in your space. Not only is this an issue of style (true vintage furniture is irreplicable), but it's also an issue of environmental sustainability. Repurposing old furniture is much more environmentally-friendly than getting a brand new manufactured piece and artificially aging it. If you aren't able to successfully buy antique furniture for your home, you can always go to a thrift store, where used furniture is often sold at a more affordable price. Thrift shop furniture might not have the same attractive look of antiques, but you can still find a decent wood furniture piece that already has some aged elements, and then DIY the rest of the antique features you desire — this is much less wasteful than DIYing a fake antique out of brand new furniture.
After you've picked out your thrifted furniture or IKEA bench, look for distinctive features you might want to preserve, such as unique detailing in the legs or even an attractive knot in the wood. Make sure you avoid damaging those special areas as you work on the piece. With a little care and planning, you will soon have some gorgeous antique furniture for a fraction of the cost.