The Snow Shoveling Item You Need To Save You Time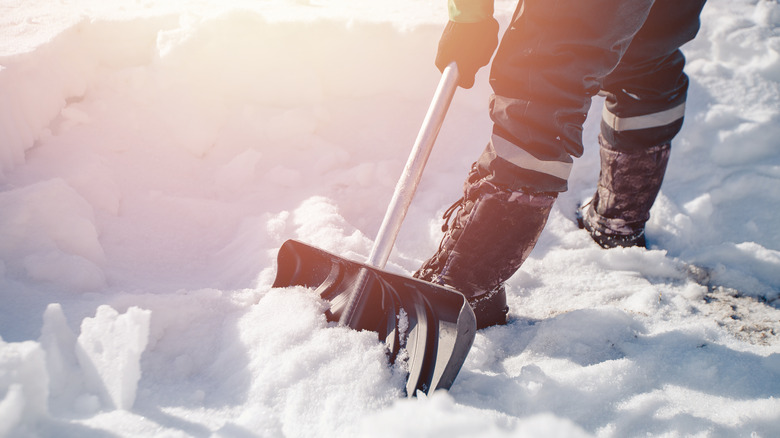 Parilov/Shutterstock
We may receive a commission on purchases made from links.
Snow shoveling is a constant reality for those of us who live in regions that snow heavily during the wintertime. No one likes getting up on a freezing, snowy morning, toiling away to clear away snow from the path when you'd rather snuggle under your warm comforter in bed. Luckily, you don't need to lose sleep over thoughts of working hard labor for hours when you can just use an electric power snow shovel. Because this tool is designed to make shoveling automatic, you could make driveway snow removal easier and save time.
Sometimes, tradition could do with an upgrade, and such is the case with shoveling snow. While conventional shovels are generally cheaper, electric shovels are more practical. They largely reduce the amount of physical work you have to do, eliminating the need to dig into the snow, lift it up, and throw it aside. This is a welcome benefit, as the American Heart Association asserts that shoveling snow with a normal shovel increases your risk of heart problems.
Electric snow shovels are also faster than conventional shovels. You get the job done quicker using a machine. Gone are the days when you had to stay outdoors for hours in the cold and risk getting sick. The faster you finish shoveling, the faster you can head back inside to the warm fire. Shoveling snow is a necessary evil that you can shorten by following this simple shoveling hack and snagging yourself an electric power shovel.
Choose the right electric power shovel for your driveway
Clearing away snow from your driveway and sidewalks is crucial because the more you trudge on snow and drive over it, the more compact it becomes. Using an electric shovel like the Snow Joe electric power shovel can ease up a lot of stress. TikTok creator @boozeandbbq shows just how efficient they are and how quickly they get the job done. By powering through 13-inch wide paths and 6-inch deep layers of snow at a time, you can clear your pavement in a fraction of the time.
The Snow Joe electric shovel sells on Amazon for just $89. One reviewer attested that the appliance works great on 6 inches or less of snow, and another was glad that they had to give 15 inches of snow only two passes to clear it all up. It's also worth noting that the electric shovel comes in both corded and cordless battery-operated designs. The cordless device is more expensive at $140 at Walmart. The design you purchase depends on the size of your driveway and work area. If you have a smaller area to cover, you could get away with the corded option, but for larger surface areas, you'd need more freedom of movement so the cordless shovel would be ideal. Just be sure to watch where you blow the wet snow to avoid a snow-shoveling mistake that could damage your yard – encouraging fungal infections on the vegetation.