This Dollar Tree Dish Rack Hack Will Revolutionize Your Closet Storage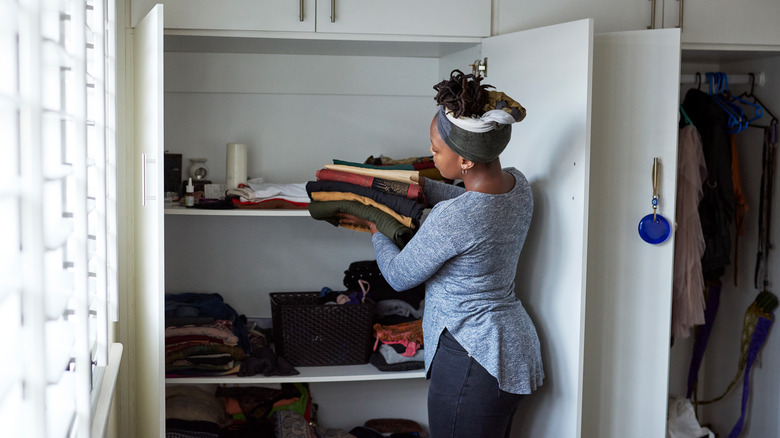 Mapodile/Getty Images
One space we all wish to be larger is the closet. Whether you live in a house, apartment, or condo, the closet never seems to have enough space. While you might organize your small closet by making neat piles on the shelves or using various hangers, they truly only last a couple of days before getting chaotic again. Storage containers help keep your things slightly more organized, but they can also create a massive mess with things mixed up together since there aren't any individual compartments for single items to occupy. However, you can definitely give your closet a budget-friendly organizational boost with an item from Dollar Tree: a dish rack.
Even though dish racks are meant for dishes, they're highly versatile and work as superb items for making a disheveled space tidy. You only need a few dish racks from Dollar Tree and everything you want to organize. The dish racks are $1.25 each, and you can buy them in-store or online. They have four evenly spaced slots that fit many things, from clothes to accessories. Plus, they're smaller, so you can set between three and four on a single shelf — depending on how long the shelf is. The next time a pile of shorts falls on your head from the top of the closet, run to Dollar Tree to get a dish rack. It'll solve your problems.
Fill the dish rack slots with one item
Placing the dish racks on a shelf in your closet is ideal — rather than on the floor — since they're shorter; you don't want them to get messy or always have to crouch down to get an item. Once you have all the dish racks, assemble them one at a time. Place a rack on the shelf and fill the slots one by one with an article of clothing. You can organize your shorts, skirts, workout leggings, running shorts, and more in the dish racks. After you fill one, repeat with the rest you bought. You'll notice how effortless it is to remove an item and put it back where it belongs. Plus, you won't have to grab a pair of leggings from a tall stack anymore and worry about them all falling over.
The dish racks also work perfectly for drawers if you don't have a shelf in your closet to put them on. Use them in your kid's room to hold their clothes — simply fold and add them to a slot. On the other hand, instead of storing clothes in the dish racks, use them to hold all of your accessories. For example, scarves, gloves, beanies, and leg warmers fit in each spot. You can categorize the dish racks so they hold the same items. One dish rack can hold beanies, another can have scarves, and the last can keep gloves.