HGTV Shares Its Budget-Friendly Hack For Cleaning Low-Pile Carpet With A Broom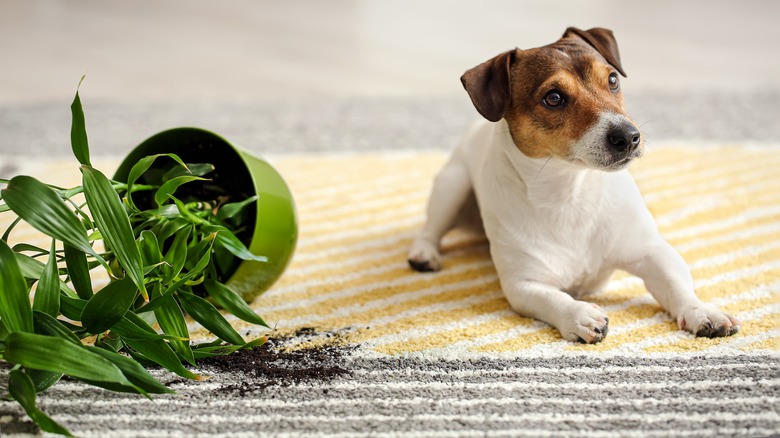 Pixel-Shot/Shutterstock
Low-pile area rugs and carpets are cool, contemporary design choices these days. Plus, they're definitely easier to keep clean than the long fibers of yesteryear's shag carpets. Although low-pile rugs might need some spot cleaning with liquids and cleaners from time to time, most people regularly freshen the surface with their vacuum. However, did you know that you can remove dust and debris from the surface even if you don't have a vacuum cleaner nearby? A super inexpensive way to clean carpets is with a broom, and if that broom is well-worn or flimsy, HGTV suggests wrapping a rubber band around the bristles to change the game.
There's a reason brooms are still around and useful 200 years after the start of modern broom-making. It's not just that they were the only option before Hoover was a glint in anyone's eye, but they're also still popular because brooms work. Though, depending on the bristles they're made of, their firepower can vary. When choosing the right broom for different tasks, soft bristles are great for sweeping up fine substances like flour or pet hair. Medium bristles can be used for wet or dry cleanings and are good for grabbing things like fruit and vegetable peelings off the floor. And, stiff bristles are the hard-working dirt scrubbers of the bunch. While the best type of broom to use for this hack is one with stiff bristles, even one with soft bristles will get the job done.
Remove dirt from your low-pile carpet with a broom
When you originally bought or inherited your broom, you may or may not have been aware of the benefits and drawbacks of each bristle type. But, if you happen to have a soft-bristled broom, no vacuum for the time being, and a slightly dusty low-pile carpet, you can still clean it well in a few minutes. By wrapping a large rubber band around the bristles, you'll automatically stiffen them up, and that means less physical exertion for you. For wide brooms, tie two rubber bands together and connect them with paper clips. When you're done, you can even extend the life of your broom with a salt soak.
For the best results, take short, powerful swipes on a section of the rug, progressively bringing the dust you're collecting to the rug's edge — if you circulate randomly, you may miss entire chunks. To stay organized, work from one side to the other in more or less straight lines. You'll have an easier time getting the dust into the dustpan if you pull the debris to the edge and position the dustpan on the floor. If you have pets that shed, sweep as much as you can, then use a squeegee to clean up any remaining pet hair. You'll likely kick up dust from vigorous sweeping, so you might want to save your dusting until after you're done cleaning the rug.