Jenn Todryk Is Obsessing Over This Kitchen Cabinet Color And You'll Want It In Your Own Home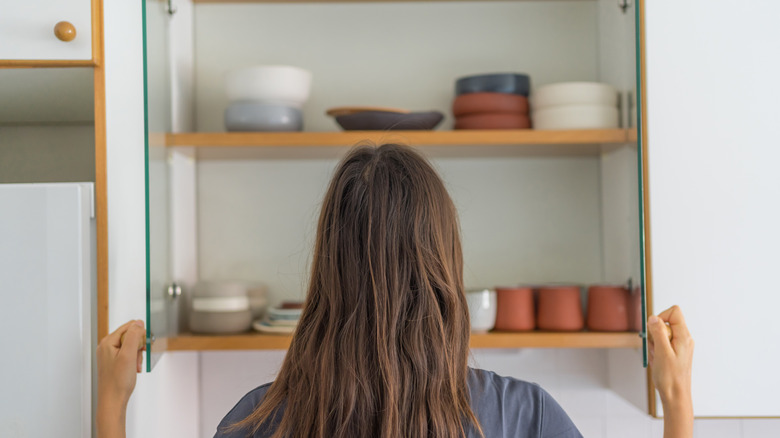 Ascentxmedia/Getty Images
While white kitchen cabinets may be a timeless option, other shades have begun to rise to prominence and come for that number one spot. In fact, Jenn Todryk, the host of HGTV's "No Demo Reno," has a new neutral that she loves for this space. "White kitchens have been around for decades, and they're still very much here," Todryk explained in an interview with Homes & Gardens. "This color makes a space feel bigger and brighter, and you can't go wrong with it. However, right now, tan kitchen cabinets are the new 'white kitchen.'"
The starkness of the shade serves as one of the main drawbacks of white cabinets and all-white kitchens. Tan, on the other hand, adds a bit of warmth that gives some softness to the area. "A light tan cabinet provides the same amount of space, openness, and lightness as white, but it has a little bit more depth and feels more organic but modern," Todryk added. The extra richness of tan cabinets can also create more visual interest. It has an earthy vibe that helps ground the kitchen and create a stable backdrop for other shades in the room.
The versatility of tan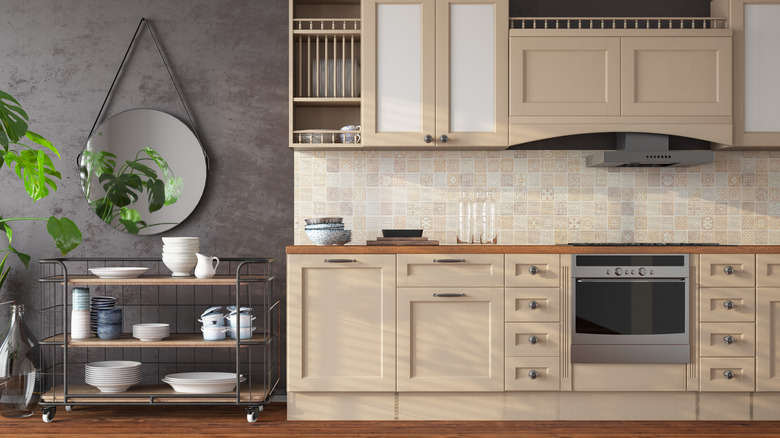 Asbe/Getty Images
Tan has gained popularity in large part due to its adaptability. "Tan taps into lots of different design aesthetics, meaning it's versatile enough to work in any kind of home; that's why it's consequently coming back in a whole new way," Jenn Todryk shared with Homes & Gardens. "This tone, in particular, has more depth than traditional beige – and it feels more organic. I love this color, and I'm seeing increasingly more people love it too."
Tan shades are often more neutral compared to beige, which tends towards orange and red undertones. Tan typically incorporates a greater amount of yellow and green undertones, creating a neutral and relaxing paint color that works with different interior styles and pairs with other shades in a palette. Opt for tan paints with green-yellow or grayish undertones for a neutral look, such as Canvas Tan or Neutral Ground from Sherwin-Williams.
You'll also want to consider other elements that may affect the appearance of the paint finish. Lighting, in particular, can change how paint looks. Consider both natural light from windows and artificial light from fixtures. To capture the true neutrality of the color, go with white bulbs or add a bit more warmth with yellow-tinted illumination.